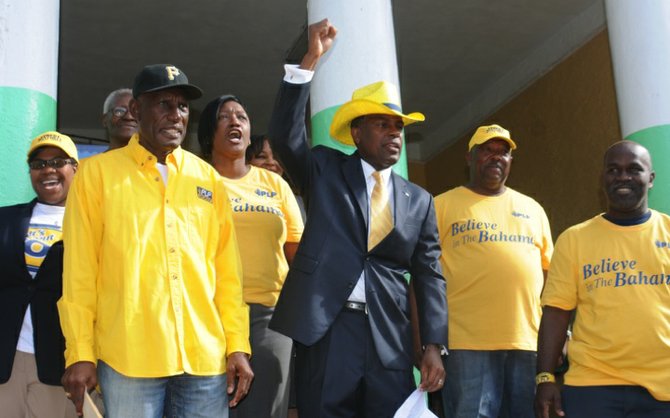 FRED Mitchell, the PLP candidate for Fox Hill, chastised Prime Minister Hubert Ingraham yesterday for "insulting" the PLP and its leader.
In a statement issued to the media, Mr Mitchell said that the Prime Minister, "in his waning days in office" ought to "learn a thing or two about being gracious as he walks into the sunset."
"The continuous, unseemly gratuitous insults by him about the leader of the PLP show that Mr Ingraham is simply unfit to govern. Mr. Ingraham's quoted comment at yesterday's nomination proceedings about the PLP and Mr Christie are stupid. They are false. He keeps trying to make this a contest about personalities when this election is about crime and unemployment and the failures of the Ingraham led administration.
"I would invite him to cease and desist. Further, I invite him to mind his own business. The PLP elected Perry Christie fair and square as its leader in open and democratic elections. This is something Mr Ingraham now fails to do with regard to the choice of a Deputy Leader. Mr Ingraham is a one man band," he said.
The Fox Hill candidate reminded Mr Ingraham that the PLP is not a "one man band" like the FNM, and again called upon the PM to apologise for the religious anthem "Nobody Greater" that was played at an FNM rally that allegedly sought to compare Mr Ingraham "to God."
"The leader of the PLP is Perry Christie and Mr Ingraham should butt out of PLP business and stick to the issues and not idle bombast," Mr Mitchell blasted.