By AVA TURNQUEST
Tribune Staff Reporter
aturnquest@tribunemedia.net
PRIME Minister Hubert Ingraham last night revealed his government's plans to effect the largest upgrade to the Royal Bahamas Defence Force with the construction of a new base, expanded ports and 11 new vessels.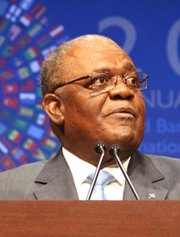 Speaking at a rally in North Eleuthera, Mr Ingraham told supporters that the new RBDF base in Ragged Island would serve as "a constant presence in the Great Bahama Bank area, one of the country's richest fishing grounds".
Mr Ingraham said his administration would implement a Defence Force Reserve and engage another 235 officers during their next term in office.
"I confess that we need to do more to combat poaching in our waters," Mr Ingraham said.
"We will therefore boost our arsenal of prevention and quicker response to the threat of poaching."
He added: "We will dredge the harbour at the Inagua Defence Force base to allow for larger vessels.
"We also plan to develop a base in Grand Bahama, and sub-bases in Abaco and Exuma."
Mr Ingraham also announced his government will deepen Coral Harbour to 15 feet and reconfigure the dock to accommodate an expanded Defence Force fleet, at a cost of $20 million.
"We will maintain a continuous presence at strategic choke-points throughout the length and breadth of our island-chain in order to combat poaching as well as gun, drug and human trafficking.
Mr Ingraham said: "These bases are intended to act as a deterrent and enhance our capacity to apprehend those who seek to violate our laws and diminish our prospects for peace and prosperity."
The vessels will serve to increase patrol capacity and create an "effective dragnet and defence posture," and will include four 70-foot vessels, at a cost of $21 million; four 108-foot vessels, at a cost of $46 million; two 140-foot vessels, at a cost of $27 million; and one 170-foot supply vessels, at a cost of $12 million.
"That's for a total of some $120 million to be expended on increasing the patrol capacity of the Royal Bahamas Defence Force," Mr Ingraham said.
"And, in addition to the two patrol aircraft acquired during this term in office, we will acquire two additional patrol aircraft.
"These upgrades of vessels, bases and technology are critical to a variety of national security threats beyond poaching, including the drugs and guns which help to fuel violent crime.
"These upgrades are also critical in combating illegal migration and preserving and protecting our fisheries and marine resources such as the treasures from ancient shipwrecks which may be found in our oceans."