By KHRISNA VIRGIL
kvirgil@tribunemedia.net
BISHOP Simeon Hall hit out at the country's entire political class yesterday following the disclosure of candidates' assets.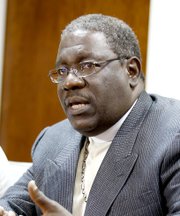 He issued a statement saying a political cadre that boasts 56 millionaires should be doing more to "mature our people against violence" in all its forms.
Bishop Hall said it is obvious that many MPs and political hopefuls have managed to be extraordinarily successful, and true public service should mean working to ensure some success also finds it way to the common people.
A good way to start, he said, would be to publicly disavow violence and promote political tolerance.
"Physical, even verbal violence during elections is a thing of our dark ages. It is incumbent on political leaders on all sides not only to avoid the smallest forms of violence, but to condemn it when it occurs," Bishop Hall said.
The financial disclosures of the 133 candidates for the May 7 election went public following their official nominations on Tuesday.
At the highest end of the wealth spectrum is independent candidate for Mangrove Cay and South Andros Whitney Bastian, who declared a net worth of $11,407,000.
FNM Killarney candidate Dr Hubert Minnis trails Mr Bastian by less than $500,000 with $10,980,122.
The PLP's Gary Sawyer, a prominent businessman, is worth an estimated $7.8 million.
Well ahead of FNM leader Prime Minister Hubert Ingraham and PLP leader Perry Christie, the DNA's Branville McCartney declared a net worth of $6.5 million.
Mr Ingraham and Mr Christie declared $1.9 million and $2 million respectively.
Leslie Miller, who is running for the PLP in Tall Pines, listed his net worth as $6.5 million while FNM Elizabeth candidate Dr Duane Sands and PLP candidate for Marathon Jerome Fitzgerald both declared $6 million.
FNM Fort Charlotte hopeful Zhivargo Laing declared a net worth of almost $1 million, while his PLP opponent Andre Rollins declared a net worth of $687,000.
At the lower end of the spectrum, Bahamas Constitution Party Leader Ali Mcintosh declared just over $20,000, while independent candidates Mario Clarke and Jay Armbrister declared $7,000 and $1,441 respectively.
The 2012 election's big money men are still a far cry from last election's top four.
Current Foreign Affairs Minister Brent Symonette at the time declared a net worth of just over $58 million; Jackson Ritchie $18.8 million; Shandrice Rolle an estimated $16.4 million; and Allyson Maynard-Gibson $11.6 million.