THE Court of Appeal told a former death row inmate he waited too long to challenge a 2008 ruling.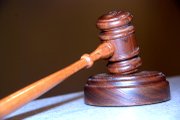 Justices Christopher Blackman, Stanley John and Abdulai Conteh told Kendon Brown, who is now a manslaughter and attempted murder convict, that his only option was to seek permission from the London based Privy Council to lodge an appeal, and would need legal advice to do so.
Kendon Brown lost an appeal in October 2008 in connection with the July 9, 2001, shooting death of private nurse Joan Lunn and the attempted murder of Anthony Saunders.
He is now seeking to plead his case before the Privy Council, the highest court of appeal.
On the night in question, Lunn had been on duty at the Princess Margaret Hospital attending to her patient, Saunders.
Saunders, also known as Blackus, who reportedly had associations with the drug trade, had been injured in a drive-by shooting in Grand Bahama two days earlier.
That night, two men entered the hospital, one of them bursting into the room where Saunders, his wife and nurse Lunn were.
The man opened fire, hitting Saunders and nurse Lunn, who died instantly from a bullet wound to the chest.
Brown was charged and convicted of murder and attempted murder in 2003 and sentenced to death.
However, he appealed and the conviction was quashed a year later when a retrial was ordered.
Two years later, he was convicted of manslaughter and attempted murder and sentenced to 60 years in prison.
He appealed the conviction and sentencing but was not successful.
Brown told the judges yesterday he did not have an attorney and could not afford one.
Prosecutor Neil Brathwaite said the Attorney General's Office would help the convict deal with the necessary paperwork.