By AVA TURNQUEST
Tribune Staff Reporter
aturnquest@tribunemedia.net
POLICE chiefs remained tightlipped over the nature of complaints filed against a senior police officer yesterday.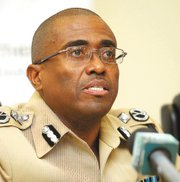 Deputy Commissioner of Police Quinn McCartney denied reports that the senior officer was placed on administrative leave due to rape allegations. However, he said no further clarification would be given until investigations have been completed.
Mr McCartney said there were no officers currently under investigation for alleged sexual misconduct with a female officer.
"The Complaints and Corruption's branch is investigating allegations that were recently brought to our attention that involve a senior police officer," said Mr McCartney, who is responsible for police force discipline.
"In an effort not to prejudice the ongoing inquiries, it is the position of the police force that no further comments will be made publicly beyond this point."
According to sources, an official complaint was filed against the officer on Thursday.
The allegations were also published in The Nassau Guardian, who reported that claims of sexual misconduct were filed by four female officers.
Mr McCartney maintained that all allegations of misconduct by officers are thoroughly investigated, not withstanding rank.
"On conclusion of the investigations if we believe there is sufficient evidence to put that officer before the criminal courts, the officer will be placed before the criminal courts," he said.
"If there is sufficient information to place before the police disciplinary tribunal - which is our internal mechanism for dealing with complaints - it will go before the disciplinary tribunal."