THERE was some "jiggling" of teams in the standings in both the 15-and-under and 19-and-under divisions on Saturday as the Baptist Sports Council continued its basketball regular season before the rain washed out the majority of the men's games.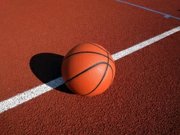 In the 15-and-under division, both defending champions Macedonia and runners-up Eagles Nest finished the regular season at 4-1 but by virtue of winning their head-to-head matchup, Macedonia clinched the pennant.
While Temple Fellowship ended up in third at 3-2 and will now play the Eagles Nest in the sudden-death playoff in May, Macedonia will have to wait to see the outcome of Saturday's game between Hope Centre and St John's No.2 to determine who their opponents will be.
Both Macedonia No.1 and the Eagles Nest are 5-1 but the pennant is still up for grabs with Macedonia No.2 and Golden Gates right on their trail at 4-2 and Temple Fellowship knocking on the door at 4-3. The pennant will be decided on Saturday.
As for the men, Macedonia is still undefeated in the A division at 3-0 and could still wrap up the pennant with two games left. If not, defending champions Temple Fellowship is sitting in waiting at 4-1 in second place.
And in the men's B division, there are two undefeated teams in St Mark's and Hope Centre, who are 4-0 and 2-0 respectively. Their pennant is also still hanging in the balance with Golden Gates No.2 in third at 3-1.
Results of games played on Saturday are as follows:
15-And-Under
Temple Fellowship def. St John's No.1 41-24; Eagles Nest def. St John's No.2 24-29 and Macedonia def. hope Centre 22-18.
19-And-Under
Christian Tabernacle def. St John's 36-30; Macedonia No.2 def. Temple Fellowship 40-23; Macedonia No.2 def. St Mark's 46-25; Macedonia No.1 def. Temple Fellowship 65-37 and Eagles Nest def. Golden Gates 34-23.
Men
St Mark's def. BIBA 49-46.
Here's a summary of some of the games played:
Temple Fellowship 41, St John's No.1 24
Demetrius Charlton scored 12, Dominique Bethel had 10, Ellison Greenslade eight and Kamal Murphy seven in their 15-and-under win. Jamal Simon had a game high 17 in the loss.
Macedonia 22, Hope Centre 18
Larecus Armbrister scored six and both Davon Adderley and Shamar burrows had five apiece in their 15-an-under win. Michael Sweeting scored a game high 10 in the loss.
Macedonia No.2 46, St Mark's 25
Delano Knowles scored a game high 16, Alexio Newman had 12 and Lamar Saunders six in their 19-and-under win. D Brown had eight in a losing effort.
Macedonia No.1 65, Temple Fellowship 37
Van Hutchinson had a game high 20, Delroy Grandison scored 19, Levigi Forbes 16 and Ray Stubbs seven in their 19-and-under win. Randy Miller scored 12 and Kevin Eugene had seven in the loss.
Eagles Nest 34, Golden Gates 23
Kenneth Pratt scored a game high 21 points and Vano Miller added six in their 19-and-under win.
Here's a look at the standings going into Saturday's games:
TEAMS W L Pct. GB
15-And-Under Division
Macedonia 4 1 .800 -
Eagles Nest 4 1 .800 -
Temple Fellowship 3 2 .600 1
St John's No.1 2 3 .400 1 1/2
Hope Centre 1 3 .250 2 1/2
St John's No.2 0 4 .000 3 1/2
19-And-Under Division
Macedonia No.1 5 1 .833 -
Eagles Nest 5 1 .833 -
Macedonia No.2 4 2 .666 1
Golden Gates 4 2 .666 1
Temple Fellowship 4 3 .571 1 1/2
Christian Tabernacle 1 3 .250 3
St John's 1 4 .200 3 1/2
Mt Nebo 1 4 .200 3 1/2
St Mark's 0 5 .000 4 1/2
Men's A Division
Macedonia 3 0 1,000 -
Temple Fellowship 4 1 .800 1/2
Golden Gates 2 1 .666 1
Church of Nazarene 2 2 .500 1 1/2
Eagles Nest 1 3 .250 21/2
South Beach Baptist 0 5 .000 4
Men's B Division
St Mark's 4 0 1,000 -
Hope Centre 2 0 1,000 1
Golden Gates No.2 3 1 .666 1
BIBA 2 3 .400 2 1/2
St John's 0 3 .000 3 1/2
Evangelistic Centre 0 4 .000 4
Here's a look at Saturday's schedule
Court One
10am - Hope Centre vs St John's No.2 (15)
11am - St John's vs Macedonia No.2 (19)
Noon - Macedonia No.1 vs St Mark's (19)
1pm - Hope Centre vs St Mark's (M)
2pm - Macedonia No.1 vs Mt Nebo (19)
3pm - St Mark's vs St John's (19)
4pm - St John's vs Hope Centre (M)
Court Two
10am - Mt Nebo vs Eagles Nest (19)
11am - Mt Nebo vs Christian Tabernacle (19)
Noon - Temple Fellowship vs Eagles Nest (19)
1pm - Christian Tabernacle vs Golden Gates (19)
2pm - Golden Gates vs St John's (M)
3pm - Macedonia No.2 vs Christian Tabernacle (19)
4pm- Golden Gates No.1 vs Macedonia (M)