By LAMECH JOHNSON
Tribune Staff Reporter
ljohnson@tribunemedia.net
ONE of two men on trial for the 2010 armed robbery of a local bank was acquitted yesterday.
Sean Lightbourne, 36, of Rugby Drive was released yesterday morning when Supreme Court Justice Bernard Turner ordered the nine member jury to deliver a not guilty verdict.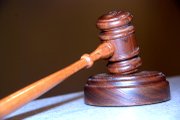 The Winton Meadows resident had been accused of robbing Sandyport First Caribbean International Bank on July 28, 2010.
It was claimed that he and 36-year-old Garth Hall of Ridgeland Park held up and robbed two branch employees of $30,317 while armed with a handgun and an AK-47 assault rifle.
Lightbourne and Hall were are also accused of shooting at two police officers and causing damage to a police vehicle.
The last charge Lightbourne faced was stealing. It was claimed he and Hall stole a 1998 Nissan Cefiro, reportedly used to get away from police.
Justice Turner's order to acquit Lightbourne came about after a series of closed-door consultations.
Testimony was expected to begin on Tuesday, April 10. However, defence and prosecution attorneys spent almost two weeks in discussions with Justice Turner regarding whether or not there was a case against the two men.
Lightbourne's attorney Murrio Ducille argued his case successfully but the judge felt Hall, represented by Ian Cargill, still had a case to answer.
His trial is expected to begin tomorrow. Jillian Williams is prosecuting the case.