By NEIL HARTNELL
Tribune Business Editor
THE 11.2 per cent air arrivals growth rate achieved by the Bahamian tourism industry during the 2012 first quarter "is the third best on record", the minister of tourism and aviation said yesterday, revealing that he was working on plans to "eke out more business" in the traditionally slow September/October period.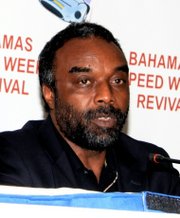 Telling Tribune Business that tourism executives were "crossing our fingers" that indicators such as the Nassau/Paradise Island resort industry's room nights sold for April 2012 might match pre-recession levels, Vincent Vanderpool-Wallace said the projected 21 per cent year-over-year increase in air seat capacity to the Bahamas for June indicated the winter season's gains were likely to continue through summer.
"For the first quarter of the year, air arrivals were up 11.2 per cent," Mr Vanderpool-Wallace told Tribune Business, "and we believe we will have one of the strongest April's ever. All indicators point in that direction, and we're very pleased with the performance we are seeing. Having air seats in place to absorb that is very important.
"We look at Grand Bahama for the 2012 first quarter. Air arrivals rebounded 21-22 per cent. In the Family Islands it was up all across the board, with Exuma, as my memory recalls, up by 25 per cent. We're seeing the rebound we hoped for.
"This rate of growth in air arrivals for the first three months of the year is the third best on record, so we are in a very good spot. Air arrivals growth for the first three months of the year is the third fastest ever."
And, comparing the Bahamas to other Caribbean destinations, Mr Vanderpool-Wallace added: "If you look at our performance compared to anyone else in the region, it is extraordinary. The rate of growth for large destinations, most of them are flat, and for us to have this performance is extraordinary."
Asked whether the tourism industry was close to recovering to early 2008 pre-recession levels, the minister replied: "Our fingers are crossed in terms of room nights sold in Nassau in the month of April, that they may be back to 2008.
"We've got a few days to go, but the level of occupancy we're seeing in the Nassau/Paradise Island area we think augurs well for the rest of the year."
The Ministry of Tourism's Competitive Pricing Tracker for April 2012, which measures pricing and available seat capacity on airlines coming into the Bahamas, disclosed that the latter had increased from 171,715 in 2011 to 207,649 for June 2012.
Projected available airlift to Nassau/Paradise Island for June 2012 is up 15 per cent year-over-year, rising from 139,280 to 160,171, while for Grand Bahama it is ahead 83 per cent - from 14,567 in 2011 to a forecast 26,604 this time around.
Other destinations showing major increase in airlift capacity were Bimini, with 100 per cent growth; Marsh Harbour, at 31 per cent; and Treasure Cay with 74 per cent growth. North Eleuthera was also forecast to be up 11 per cent.
Mr Vanderpool-Wallace yesterday said June's forecast airlift capacity was "very important", as it both indicated strong stopover visitor demand for the Bahamas and that the 2012 winter season performance would continue through the summer.
Noting that the Ministry of Tourism had earlier predicted air seat capacity to the Bahamas would be up by 11.5 per cent for the 2012 first half, the minister said the air seat figures suggested the summer "fall-off" feared by many hotels may not occur.
"We believe we're going to have a very strong summer, and that will continue throughout the year," Mr Vanderpool-Wallace said. "We were very concerned about May, and it looks like that concern is being allayed, which is very important. June is very strong."
The minister, though, acknowledged that the slowest point of the tourism/hotel season - September-October - remained a period in which it was "very difficult to make headway for a whole variety of structural issues. Hurricanes and Back to School are two events we can do very little about. It's one of those things".
Yet Mr Vanderpool-Wallace disclosed to Tribune Business that he had "some plans for September and October", although he declined to go into specifics because they had not yet been approved by the Government. Their approval, he added, would also depend on the outcome of May 7's general election.
"We have a very preliminary suggestion for September and October just to see if we can eke more business out of those two months," Mr Vanderpool-Wallace said, adding that if this worked it would help 'smooth out' hotel sector cash flows and profits.
Traditionally, Bahamian hotels have been reliant on the winter season, squashed into the first four months of the year, for annual profitability. They then 'float' through summer and September/October on the net income earned then, subsidising those loss-making periods, before hopefully getting a year-end Christmas/New Year bounce.
"If we can fix that, the sustainability and profitability of the sector becomes that much better," Mr Vanderpool-Wallace told Tribune Business.