YESTERDAY'S Appeal Court hearing, expected to end the six-year dispute between the millionaire Weissfisch brothers, did not go ahead as scheduled. It is understood the hearing was rescheduled for May 9 -- two days after the general election.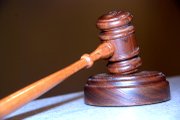 The dispute started in a court battle in England in 2006 when Rami Weisfisch was accused by his younger brother, Amir Weissfisch of refusing to account for his partnership profits.
(The brothers spell their surnames differently. Rami Weisfisch dropped an 's' from the family Weissfisch surname in spelling his own name).
Their firm, the Metals Resources Group, became a dominant force in the global cobalt market in London in 1999. The company closed in 2002.
According to a 2006 report in The Observer in London: "Amir Weissfisch, who ran Metals Resources Group (MRG) with his elder brother Rami Weisfisch, claims that Rami reneged on a plan to dissolve their partnership and is suing for up to $88 million.
"Amir claims that at the time of the alleged agreement his elder brother was about to have life-threatening heart surgery and wanted to make sure that his family would be provided for if he died. He claims that he transferred the $88m to Rami and his daughter.
"But Rami," continued the Observer's report, "survived his heart bypass operation, which led eventually to the current dispute.
"According to Amir's claim, filed at the High Court in London, it had been proposed as part of the agreement in November 2001 that if Rami lived 'the sum of $37.5m would be repaid to (Amir) within three months along with further sums to be identified."
"But Amir's statement of claim adds that Rami failed to do this and 'wrongfully and in breach of the oral agreement, (Rami) continues to assert rights over and in MRG Group (and) to direct the business of MRG Group.'"
The firm was registered in the Bahamas, where litigation has continued. In that time three Judges have recused themselves at the request of Rami's legal team -- Justices Anita Allen and Jon Isaacs, with Justice Lyons, who started the case, the first to step down. The last judge -- Mr Justice Stephen Isaacs refused Rami's request that he recuse himself. Rami had alleged that Justice Isaacs had shown bias towards his younger brother, which the judge denied. However, Justice Isaacs later of his own volition removed himself from the case.
During this time there have been many claims, counter-claims and sealing of documents. As a result the case has not had full coverage in the press.
Yesterday's planned hearing was the result of a direction in February by the Appeals Court that the Israeli brothers return to inform the court whether they had been successful in reaching a settlement, thus ending the case, or whether litigation had to continue.
It is understood that Rami represented that a settlement was near, while Amir felt that yesterday's hearing should have gone ahead as it would have been helpful.
In 2010 an action was filed in the Supreme Court against lawyer Philip "Brave" Davis by a Liechtenstein foundation accusing him of wrongfully claiming ownership of shares in Metal's Holding Corporation, thereby interfering with the investment of that company's assets. Mr Davis was being sued in his capacity as trustee of the APW (Amir Perez Weissfish) Trust and as director of Metals Holding Corporation.
Mr Wayne Munroe, the sole director of SFP Metals (UK) Limited, a private limited company incorporated in England, in his director's report on the company's 2010 accounts states that Mr Davis is the trustee of the APW Trust which owns the entire issued share capital of SFP Metals SA.
These accounts are open to the public at Companies House website --