PLP Fox Hill candidate Fred Mitchell yesterday called on broadcast authorities to block an advertisement he says seeks to connect to him to an alleged "visa scandal".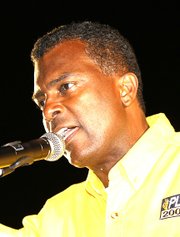 Mr Mitchell said he has instructed attorney Raynard Rigby to issue two letters - one to the Utilities Regulatory Competition Authority (URCA), the other to ZNS TV - regarding an FNM political ad in which his image is used.
Calling the ad defamatory, Mr Mitchell said political campaigning should not be used as a cover "to repeat untested, untrue and unsubstantiated hearsay".
He said if the matter is not resolved to his satisfaction by the Broadcasting Corporation of the Bahamas, "a writ will follow".
Mr Mitchell's attorney pointed out that the "visa scandal" in question is currently before the courts and therefore not a fit subject for political commentary.
"Given the urgency of the matter, we expect URCA will move swiftly to compel its licensees to prevent any further broadcast of the ad," Mr Rigby said.