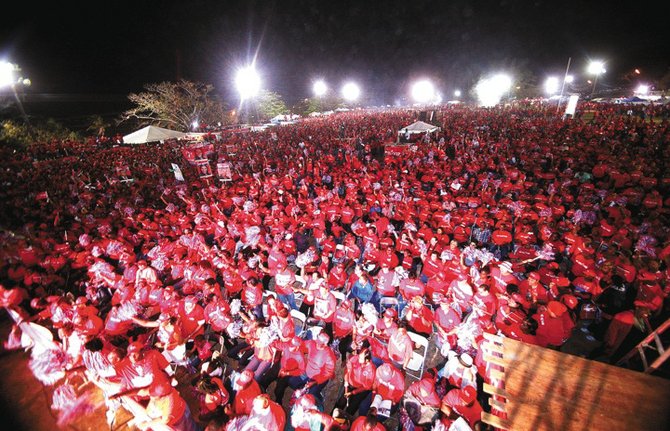 BATTLING a sore throat, Prime Minister Hubert Ingraham last night rallied his troops at a massive event at Clifford Park.
Taking the PLP to task as a party that talks and cannot deliver, Mr Ingraham called on his supporters as well as PLPs and independents to give his party another five years in office.
Mr Ingraham said: "It is the FNM that created the Fish Fry. It is the FNM that moved the Port to Arawak Cay. It is the FNM that removed the crumbling Customs building and created something new and good for the Bahamian people on Arawak Cay.
"Whenever you think of the PLP, think of that old broken down Customs building because that's exactly how they left this country. They neglected the Family Islands, they neglected Over-the-Hill, they neglected Grand Bahama and they neglected Bahamians everywhere.
"They are the party of neglect. We are the party of deliverance. Just look out from this park to see what we've delivered for you.
"We are delivering a revitalized City of Nassau. They neglect. We deliver."
Mr Ingraham also cited the creation of the Goodman's Bay Park, the upgrade of the Western Esplanade and the green open space at West Bay Street and Perpall Track.
Mr Ingraham went on to pledge that the FNM government would do more for police and defence force officers.
He said: "You know that when we can, we increase your pay and improve your terms and conditions of employment."
Hard copies of the FNM election manifesto are now available. Mr Ingraham urged people to obtain only one copy per household to ensure there were enough for everyone who wanted one.
It was rumoured that Tina Turner was going to perform at the rally last night. However, the pop superstar did not appear, contrary to the speculation running wild on social network websites.