By LAMECH JOHNSON
Tribune Staff Reporter
ljohnson@tribunemedia.net
A MAGISTRATE gave the prosecution in a rape case a little more than seven weeks to have a document ready to have a man accused of rape sent to the Supreme Court for trial.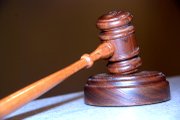 The alternative was that the preliminary trial of 34-year-old Rhyan Pinder would start on June 15 if a Voluntary Bill of Indictment was not already presented by the Attorney General's office.
Pinder, who was in police custody, stood handcuffed behind a wooden dock as Magistrate Vogt-Evans told him he was being charged with rape and causing harm.
It is claimed that he, on Tuesday, April 24, had sex with a woman who did not give him consent. It is further claimed that he caused her harm during the incident.
He pleaded not guilty to causing harm, but was not allowed to answer to the rape charge. He was not granted bail because the court did not have the power to do so in connection with the rape charge.
Police prosecution indicated that it would have the matter forwarded directly to the Supreme Court for trial through a Voluntary Bill of Indictment (VBI).
Magistrate Vogt-Evans set the matter down for June 15 for trial unless a VBI was served.
At this point, the police prosecutor asked for a date in July to have the VBI ready indicating that it was insufficient time for the department.
However, Magistrate Vogt-Evans retorted that she was not going to do so.
"If the court calendar gives a date, I can't keep him locked up because somebody, somewhere isn't ready."
"These sexual matters keep lingering on, lingering on, lingering on. The man has rights."
This was not the only sex crime arraignment of the day in Court 6.
Two other men were brought before the Magistrate charged in connection with two separate sex crimes in which both of the victims were minors.
Shawn Gibson, 36, of No. 226 Bishop Way, was the first of the three accused attackers to stand before Magistrate Carolyn Vogt-Evans in Court 6.
The charge against him was unlawful sexual intercourse with a minor.
It is claimed he slept with a 15-year-old girl on August 22, 2011.
Gibson denied the allegation and pleaded not guilty.
He was granted $8,000 bail after police prosecution, not objecting to bail, said the accused had not had any previous brushes with the law. He had previously been on a $5,000 police bond.
Magistrate Vogt-Evans ordered Gibson to report to the East Street South police station every Wednesday and Sunday before 7pm as a condition of bail. She warned him to stay away from the witnesses in this case. He will stand trial in Magistrate's Court on June 22 and has retained Roberto Reckley, present at yesterday's arraignment, to represent him.
In the second matter, 40-year-old Renaldo Taylor of Taylor Street was charged with indecent assault.
It is claimed that while at Wulff Road on Friday, April 20, he inappropriately touched a 16-year-old girl in her private parts. Taylor too denied the accusation and pleaded not guilty.
He too was granted bail, $2,500, as he had no antecedents and was warned to stay from the witnesses and virtual complainant.
He will stand trial before Magistrate Vogt-Evans on November 8.