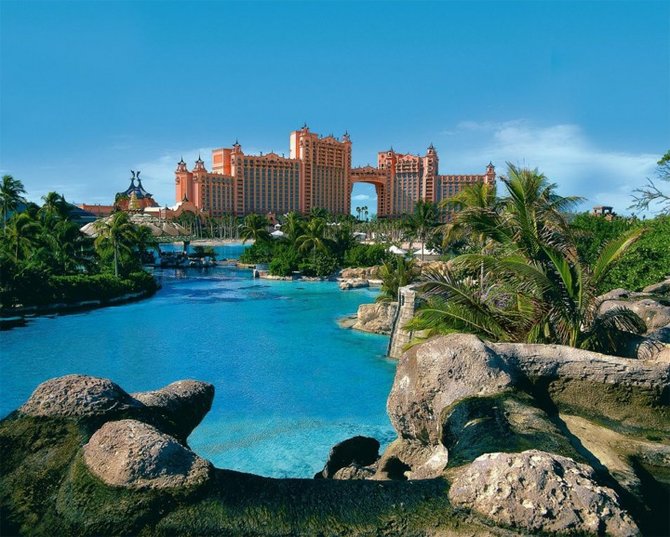 By NEIL HARTNELL
Tribune Business Editor
KERZNER International has "fired the gun" on what is expected to be a $60-$65 million capital investment programme at the Atlantis resort in 2012, its Bahamian head saying performance targets set by the new owners would not involve "miracle work" to meet them.
Speaking after the resort developer transferred ownership of the Atlantis and One & Only Ocean Club properties to Canadian-based Brookfield Asset Management to complete its $2.5 billion debt restructuring, George Markantonis, president and managing director of Kerzner International (Bahamas), said the company saw "only better things ahead" despite relinquishing control of its Paradise Island real estate assets.
Likening Kerzner International to "an aircraft carrier that has been spending time on choppy seas", as it struggled to renegotiate a debt restructuring with its lenders, Mr Markantonis issued something of a rallying cry now the issue was closed, saying: "It's time to get business rolling".
"The saga that has been going on with our debt restructuring is now over. We're now moving forward," he said. "Brookfield is the owner of the real estate properties in the Bahamas, and Kerzner International is the management team.
"This has been a bit of a distraction, and we can now focus on our core responsibilities, which is taking care of the customer."
A major initiative delayed by the almost five month-long talks among Kerzner International's lenders to resolve the debt restructuring was the start of annual capital upgrades to Atlantis's products. This was held-up until Brookfield could sign off on the details, but was initiated last week Thursday once it was known the debt restructuring would be concluded.
"We've already started with capital investments this year," Mr Markantonis said. "One month ago we initiated renovations to the Royal Towers, the first half, the first wing.
"We're kicking it off. We're going to do 600 rooms this year, and 600 next year. And next year we will do the first half of the Cove." The Cove, which opened in 2007 as part of the $1 billion Phase III expansion on Paradise Island, has 600 suites, implying that 300 will be upgraded next year.
While not disclosing the sum that Kerzner International planned to invest, Mr Markantonis reiterated: "The capital expenditures have started. We have fired the gun. A lot were initiated yesterday [last Thursday], when we knew we were at the finishing line. The Royal Towers is going to be the big one this year."
Tribune Business understands that under the debt restructuring proposal, Brookfield and the other lenders have agreed to extend the terms of the original Kerzner International loan for those remaining on the 'debt' side for two-and-a-half years until September 2014.
Some observers believe that Brookfield will seek an exit strategy around this date by selling the two Paradise Island properties to another buyer prior to Baha Mar's $2.6 billion Cable Beach expansion becoming fully operational in 2014.
The lending group is understood to be concerned that Baha Mar's emergence will impact Atlantis's performance, and could end up splitting the market for high-end visitors between the two resorts. They are also understood to be fearful of the Chinese government's influence and involvement at Cable Beach, given that the major project lender and contractor are both Chinese state-owned entities.
Both Mr Markantonis and Mr Vanderpool-Wallace, minister of tourism and aviation, indicated they felt both properties could co-exist, saying that both the Government and various Bahamas-based hotels and operators had plenty of time to grow the stopover visitor market enough to satisfy all properties by 2014.
If the other lenders and Brookfield harboured deep reservations on this point, Mr Markantonis said he was "not sure they would have agreed to some very serious financial metrics" in terms of the conditions imposed by the Government for approving the resorts' ownership transfer.
These were that staffing levels at Paradise Island must be maintained at a minimum 8,000 employees; that annual capital investments at Atlantis be maintained at a $50 million minimum; and that resort brand marketing remains, at a minimum, at current levels. The $50 million annual capital investment is the average levels achieved over the past four-five years.
Mr Vanderpool-Wallace said he had been "meeting across the island to see what we need to do to ensure smooth sailing for everyone beyond 2014".
He noted that the $409.5 million Lynden Pindling International Airport (LPIA) redevelopment and expansion was designed to ensure it could accommodate the increased visitor arrivals expected from Baha Mar and other expansions, and felt there was enough room for both Paradise Island and Cable Beach in the market.
Mr Markantonis backed this up, adding: "It's our responsibility to build on everything that is there. Next week, the minister is leading a team of us, including myself and my counterpart from Baha Mar, to speak to airline executives in Atlanta as to how we plan to encourage them to look to add routes.
"We're not waiting for 2014 to arrive. We've got to work together to make sure 2014 works when it does arrive."
As for the performance targets that Kerzner International has been set by Brookfield for the two Paradise Island resorts, while declining to specify them, Mr Markantonis said: "The criteria are very reasonable.
"They have been built around what our performance hurdles have been in the past. They're not something new and unusual. It would be silly to put in criteria that had not been seen historically here because not only Kerzner, but anyone who might have followed Kerzner, would be able to reach them.
"It's not going to be miracle workers. I'm very confident myself and the management team would be able to achieve them." He indicated, though, that he could not account for the impact of a global-impact event such as another Lehman Brothers-type collapse.
Brookfield's interests, and those of the other lenders, will likely be aligned with Kerzner International's, given that all parties will want to maximise the performance of the Paradise Island resorts in order to achieve the best possible financial 'upside' for everyone concerned.
The Toronto-based asset manager already has deep pockets, being a more than 100 year-old entity with $150 billion in assets under management, including $83 billion real estate-related assets.
Mr Martkantonis alluded to this by indicating the relationship with Brookfield could work to the advantage of both sides, and Paradise Island and the Bahamas.
"This is a 100 year-old company we're talking about that has interests on numerous continents, tens of thousands of employees," he explained. "It's a great indication of their sincerity that they've agreed to the criteria set by the Government.
"As a management team on-island, we have met with Brookfield's representatives numerous times over the last 19 months, and have only been impressed by the professionalism and dedication to succeed here.
"We see only better things ahead. They have a collection of global assets that are iconic, and this has been a successful [Atlantis] brand for some time. It's business as usual. It doesn't affect any of our associates. If it changes it will be to our benefit."
Mr Markantonis said Brookfield already had interests in a mega gaming property, and staged groups and conventions across the world. Expressing hope that Atlantis could attract some of those groups to the Bahamas, he added: "I think we will get more business from our affiliation with them. That's going to be the only change; we're going to have to work a bit harder."
Mr Vanderpool-Wallace echoed this, describing Brookfield as "not fly by night owners". He argued that a combination on operator and new owner, both successful in their own right, would only mean "continued growth" for Atlantis and, by extension the Bahamas, by attracting "other product" to these shores.
And the minister added that it "gives us a great feeling in the Bahamas" to know that the current management team at Atlantis and the One & Only Ocean Club would remain in place.