By DANA SMITH
Tribune Staff Reporter
dsmith@tribunemedia.net
GROWING concerns over the prevalence of domestic violence has prompted Social Services Minister Melanie Griffin to remind the public of existing legislation designed to intervene in "toxic relationships".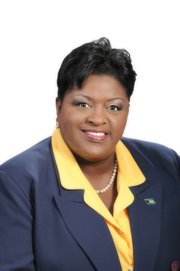 Speaking at the Ministry on Friday, Mrs Griffin took note of the negative impact domestic violence has on its victims, who often feel "conflicted and trapped" – especially if the victim is a "church woman".
She urged victims and anyone who knows about a case of domestic violence in progress, to call police immediately.
"The recent headline of the horrific murder of a young mother and other stories of domestic violence this week are indeed a cause for major concern in our communities and in particular among young women," Mrs Griffin said.
"As the minister with responsibility for Social Services and the Bureau of Women's Affairs, I take this opportunity to inform the community that there in a mechanism in place to assist victims and other persons who live in fear of domestic violence."
This "mechanism" is the Domestic Violence (Protection Orders) Act of 2007 which offers protection not only to women, but also to men and children who are experiencing any form of domestic violence – "whether that violence is physical, psychological, sexual or financial," she explained.
The Act brings cases before the courts within 48 hours, criminalises stalking and harassment, and mandates the police to intervene and help victims, she said.
"Especially important," she said, the Act can "save relationships and the family" because it gives the magistrate powers to order the parties to received intervention and counselling, and also informs the perpetrator of violence of the consequences if they continue the abuse that brought the victim to court for help.
"When the person who hurts you, whose violence you fear, is not a stranger who walks down the street, but someone close to you, someone you live with, someone you have loved and shared your life with, it makes the hurt and pain even deeper," Mrs Griffin said.
"If you are a woman of faith, a church woman, you may feel even more conflicted and even trapped. Remember that no one deserves to suffer abuse at the hands of another let alone a family member.
"You may be scared, afraid and even ashamed and embarrassed to talk about it, but know that you do not need to let any of these feelings paralyse you or stop you from seeking help. Report it to the police. I am advised that the police now have the Protection Order forms, established under the Act in police stations. The forms are also available in the court that deals with these cases – Court Three."
The minister also spoke on her Ministry's new campaign, "Domestic Violence is Everybody's Business", which seeks to raise awareness on the issue.
"We recognise that the price of being raised in a violent family is one that is costly not only for the victim but for society as a whole," Mrs Griffin said. "We recognise that violence is learned behaviour and most often learned in the family.
"It is our hope that this campaign will end the tolerance of violence in families and inculcate a climate of peace, love and respect in our nation."
Victims of domestic violence or anyone who is aware of cases of domestic violence should contact the Family Services Division of the Social Services Ministry on 322-2763 (toll free), 323-0171, or 422-2763; or Health Social Services on 356-4468 or 356-3350.
These agencies will assist victims in securing shelter, food and travel; preparing Protection Orders; arranging family counselling; finding employment; and "other essentials that might be required."