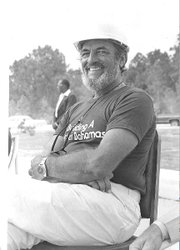 RELATIVES of Grand Bahama businessman Harold "Sonny" Waugh remember him as a gentleman who will be "terribly missed" by his family and friends.
Born January 31, 1928, in Nassau, Mr Waugh died at his Freeport residence at 2.15 yesterday morning after a long battle with cancer. He achieved much in his 84 years, including becoming the recipient of the Sir Durward Knowles Humanitarian Award.
He also earned the nickname "Mr Rotary" for his commitment and many contributions to the Rotary Club of Freeport. He was presented with Rotary's coveted Paul Harris award in recognition of his work.
Mr Waugh was also a committed and active member of Mary, Star of the Sea Catholic Church in Freeport. His funeral service will be conducted by his godson, Father Glen Nixon, on either Friday or Saturday. The details of the service will be announced today.
Mr Waugh's cousin, Adrian D'Aguilar, noted that Mr Waugh was a gentleman, "100 per cent," and also a "strong" businessman and overall kind person.
"Sonny was my oldest cousin and he and his brother, Marcel, were my constant companions in childhood," Mr D'Aguilar said.
"We grew up under the guidance of our grandfather, Ricardo deGregory, from whom we both learned the lessons of life and the values of family in business. Sonny became a great businessman and he became our family's senior statesman. We will all miss him terribly."
Mr Waugh founded the Grand Bahama based company Waugh Construction in 1965 and through that company has worked for several notable names, including the Grand Bahama Port Authority and the Bahamas Telecommunications Corporation. The construction company has "worked on every major island and on numerous other Family Islands in The Bahamas."
Mr Waugh is survived by three sons and a daughter – Greg Waugh of South Carolina, Godfrey and Brian Waugh of Freeport, and Mrs Lee Malone, also of Freeport; eleven grandchildren — Justin, Kevin, Margaret, Andrew, Jessica, Emily, Christopher, Daniel, Kayla, Megan and Michael, and three great grandchildren.
He is also survived by his sister, Mrs Cecile Shepherd of Freeport, and his brother, Douglas Prudden; his aunts, Mrs Dorothea Dupuch of Nassau, and Mrs. Eileen deGregory of Freeport, and numerous nieces, nephews and cousins.