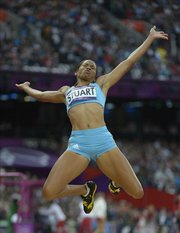 By BRENT STUBBS
Senior Sports Reporter
bstubbs@tribunemedia.net
LONDON, England — This wasn't the way national long jump record holder Bianca 'BB' Stuart wanted to make her Olympic Games debut.
Stuart's best leap of 6.32 metres wasn't good enough to get her into her first Olympic Games final.
Competing in the "on and off" rain on Tuesday night at the Olympic Stadium, Stuart turned in a best leap of 6.32 metres in the qualifying round, but her performance was only good enough for 10th best in a field of 16 competitors in Group A and 18th overall. The top 12 advanced to the final with the 12th and final spot going to Veronika Shutkova with 6.40m.
"It was very bad. It wasn't what I expected. I really don't know what happened out there," said Stuart after her performance. "I was doing good in the warm ups, then on my first jump, my foot buckled at the board and I wasn't able to control it. After that, I tried to come aggressive again. I was on the board, but I wasn't going anywhere."
Her series of jumps opened with a mere 5.30m that improved to 6.31m on her second attempt. Then on her third and final jump, she closed out with her best of 6.32, but it didn't make any dent into the leader board, nor drew her any closer to getting into the final.
"The wind, you could never predict the weather, so you just have to take it as it is," she said of the weather. "I'm not making any excuses. I just went out there and gave it my all. Unfortunately, I couldn't get past qualification."
In her jumps, Stuart said she tried to be a little passive going into her second jump after her shaky opening leap, but she couldn't get it together.
"At these games, you can't be passive, so on the third one, I went for it," she said. "I thought I was on it, but when I looked at the board, it was just a centimetre more than the second. I don't know. I'm disappointed, but I'm still happy to be here. I'm just happy to represent the Bahamas at the Olympics and I'm thankful to God that I was able to get through this competition injury free because I've been struggling all season with injuries."
With her "disappointing" performance, Stuart said she's not sure if she will be able to get into any more meets on the international scene this year. If she doesn't, she said she will take the time off to fully recuperate, get back to the drawing board and get herself better prepared for the 2013 IAAF World Championships in Moscow, Russia.
"I wasn't paying any attention to the other girls. I think a few of them got auto (automatic qualifying performances)," she said about the competition. "The crowd was wild out there so that helped them a lot."
The crowd just didn't get her pumped up enough to improve on her performance, considering the fact that she's jumped 6.40m on a bad day. And that was around the final mark that completed the 12 competitors in the final.
"It is what it is," she said. "I just have to let it go and get ready for next year and next season," she said. "I'm still young, so I'm not giving up. I just have to work on my approach a little more and get a little stronger and hopefully I can do better next year."
But for her first trip to the biggest global meet, Stuart said she has been pleased with everything she has experienced, especially from the volunteers from Great Britain and the tremendous support that each member of Team Bahamas has been providing for each other.
"The atmosphere is very calm and settled. Everybody is doing their own thing," she said. "All of the Bahamas athletes are getting along very well. Can't complain about that. So it's been good for me so far."