By LAMECH JOHNSON
Staff Reporter
ljohnson@tribunemedia.net
TWO witnesses expected to testify in the murder trial of a Floridian man were no-shows to court yesterday.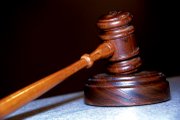 However, unlike Tuesday's absence of Daniel Ayo, who faces a murder charge in connection with the May 12, 2010 death of Clyde Tomlison, the absence of the two women did not delay court proceedings as prosecuter Linda Evans called the next witness.
The two female witnesses were expected to offer any information they had surrounding the incident in question.
However, when their names were called and the officer went to look for them, it was revealed that they were not present.
Prosecutor Evans then explained to presiding Justice Vera Watkins that there were flight difficulties the previous day and that morning, which caused the witnesses' absence.
On Tuesday, the start of the murder trial was held up by the late arrival of Ayo, who is accused of the May 12, 2010 shooting death of the Jamaican.
After a near four-hour delay, defending attorney Wayne Munroe said his client's absence from court was a result of a flight delay with Bahamasair.
Justice Watkins did not approve of the explanation and suggested that the defendant should have been told by his attorney to travel to Nassau the day before trial.
She contemplated issuing a warrant for his arrest, but did not do so.
Ayo, who is on $50,000 cash bail, was present for court yesterday and sat in the prisoner's dock as three police witnesses testified about their involvement in the case.