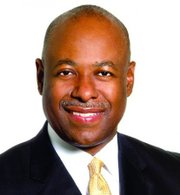 TOURISM Minister Obie Wilchcombe has put into action his plan to pursue the African American and religious group markets.
The minister recently visited Memphis, Tennessee, where he attended the 51st Annual Session of the Progressive National Baptist Convention.
Over the past few months, he has made clear his plans to pursue a number of niche markets that he has determined are lucrative and can boost the nation's tourism figures.



His attendance at the Memphis Session of the affluent PNBC - with its multi million membership - presented an opportunity to reach out to both of his favoured markets. Minister Wilchcombe has successfully engaged in meetings and talks that have resulted in a number of groups confirming visits to The Bahamas within the next few years. 
The minister's successes to date include the imminent group movement of popular televangelist Joel Osteen.
The PNBC has also confirmed a group movement to The Bahamas, with their Midwinter Board Meeting set for the Wyndham Cable Beach resort in January 2013.

The organisation is also considering The Bahamas for their 2015 Annual General Session to take place at the Baha Mar resort, Cable Beach.
PNBC's annual sessions normally draw an attendance of two to five thousand delegates. Their 2015 Annual Session will coincide with the completion of the Bahamas' mega Baha Mar resort, which will provide the thousands of rooms needed as well as extensive meeting room space and facilities.
In his greetings to PNBC's conference delegates, minister Wilchcombe said that the Bahamian people look forward to welcoming and rolling out the red carpet for them when they visit for their Midwinter Board Meeting.
He further told the group that as members of the Diaspora they are our brothers and sisters.
He said that the people of The Bahamas cherish the wealth of beauty that God has blessed them with and take pride in sharing it with others.
During his Memphis visit the minister also took part in PNBC's re-enactment of the 1968 historic Rev Dr Martin Luther King Jr. march in support of the Memphis sanitation workers.

The minister called it a 'magnificent' opportunity. He said that the late Dr King's dream had resonated in the hearts and soul of Bahamians.
Minister Wilchcombe said of his Memphis trip that, he especially enjoyed a guided tour of the African American Civil Rights Museum that chronicles the inception and progress of the US Civil Rights Movement with emphasis on Dr King's major role and involvement.
Linville Johnson, Director of the Ministry of Tourism's Religious Market, and Ingrid Bartlett and Aretha Bain-Major, of the Groups Department, Nassau, were also a part of tourism team in Memphis. Rev Timothy Stuart, Pastor of Bethel Baptist Church, Nassau and the Second Vice President of PNBC led a delegation of Bahamians to the Conference. Pastor Stuart is the first non American to hold one of the top positions within the large and prestigious organisation.