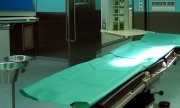 A MONTH after two babies died of a bacterial infection at the Princess Margaret Hospital, an adult woman has died from the same infection, The Tribune has learned.
When contacted for comment yesterday evening, PMH officials issued a statement claiming that there have been no new cases of the illness and no "confirmed" deaths.
The brief statement said: "PMH can now report that the four babies affected in NICU are off ventilators and are stable. One infant has been discharged. There have been no new cases of acinetobacter baumanni infections since July 25, 2012. We have no confirmed deaths due to acinetobacter baumanni infection."
The hospital said intensive investigations and infection control practices throughout the facility are continuing under the supervision of Professor Stanley Read, Consultant in Infectious Diseases at the Hospital for Sick Children in Toronto, Canada.
There is also an ongoing consultation with the Public Health Agency of Canada and the Pan American Health Organization (PAHO), the statement said.
According to sources inside the hospital, earlier this month hospital officials confirmed that the outbreak of the Acinetobacter Baumannii, had spread from the Neonatal Intensive Care Unit (NICU) to the General Intensive Care Unit (GICU) of the Princess Margaret Hospital (PMH).
At that time, Health Minister Dr Perry Gomez said the bacteria had been detected within the NICU and that it had caused the deaths of two babies. However, he said, it was unlikely that it would spread to other wards within the hospital.
Despite assurances, it was discovered that bacteria had spread to the ICU infecting four adults and one child.
The unidentified woman, who died after being infected with the bacteria, was not a new case, the source said.
The Tribune has also learned that government officials have enlisted the help of another specialist, who arrived in the country yesterday, to eradicate the disease.
The first specialist was former Chief of Infectious Diseases at the Hospital for Sick Children in Toronto, Canada, Professor Stan Read.
The Acinetobacter Baumannii severely affects those with compromised immune systems, which is why two premature babies within the NICU died of the bacteria, according to doctors at PMH.
In 1996 an outbreak of the same bacteria caused the deaths of nine babies at PMH.
Dr Gomez said that after the 1996 outbreak protocols were implemented to prevent any recurrence of the bacteria.