By CELESTE NIXON
Tribune Staff Reporter
cnixon@tribunemedia.net
A NATIONAL lottery referendum will be called following the upcoming by-election in Abaco this year, Prime Minister Perry Christie reiterated yesterday.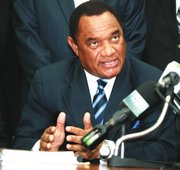 Providing an update on the government's "First 100 days" commitments in the House of Assembly yesterday, Mr Christie confirmed their intention to follow through with a referendum on a national lottery and web cafes "as soon as practicable" following the expected by-election to be held in North Abaco later this year.
He said: " The referendum will seek to ascertain the will of the Bahamian electorate as to whether a national lottery should be instituted and or whether what are popularly referred to as web cafes or web shops should be legalised, regulated, licensed and taxed."
Mr Christie reiterated that the government and the Progressive Liberal Party will remain neutral on referendum issues.
"We will not campaign for, nor will we encourage the adoption of, either a 'yes' position or a 'no' position on any of the referendum issues," Mr Christie said. "We do not have a horse in this race."
There will be a 30-day period between calling the referendum and the actual voting day, so that the public can be educated and informed on the issues. This will include debates, panel discussions and published position-papers, the Prime Minister said.
"My government will actively encourage the widest possible public discussion of the referendum issues to ensure that all points of view on the issues can be heard, read about and considered by the electorate before they make up their minds and cast their ballots, he said.
As previously stated, he said the referendum will not extend to any other forms of gambling, including casino gambling.
All components that applied to the general election will apply to the referendum, said Mr Christie, with exception that instead of voting for a particular candidate, voters will be voting on specific question and marking an 'X' in either the yes or no box provided on the ballots.
Those eligible to vote in the last general election, whether they did so or not, will be eligible to vote in the referendum and will not need to register again, he explained.
Mr Christie said persons who were not registered for the May 7 elections, but are eligible to vote, can do so provided they register 10 days before the fixed referendum date.