By RENALDO DORSETT
Sports Reporter
rdorsett@tribunemedia.net
While the country is in the midst of celebrating the accomplishments of the 2012 Olympic team, the Government of the Bahamas has made an early commitment toward the development of youth athletes in preparation for the XXXI Olympiad, 2016 in Rio de Janeiro, Brazil.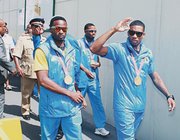 Prime Minister Perry Christie pledged his administration's commitment to the development of Bahamian sports and, in particular, the Olympic movement by creating "Centers of Excellence" to seek and cultivate talent throughout all islands of the Bahamas.
"We are an island nation and there are those young men and young women with incredible talent out there who must be found. I am going to committ my government to working with the BOC and with the BAAAs to ensure that we give the best opportunity to those 14 and 15-year-olds who are out there with what we now know to be talent that can be produced for Brazil," Mr Christie said.
"I want to be able to say to you today that the minister responsible for sports will dedicate his ministry with a level of co-operation with the athletic association and people of good will to be able to ensure that we create 'Centers of Excellence' that we promised in our own platform which will be calculated to develop the sporting talent of our youth in this country to the point where I am certain that we are able to have and produce in this period of four years, athletes that have the potential to make the Olympics that will represent us in Brazil. I have been incentivised by what you have done and how you did it."
The Prime Minister said he drew inspiration not only from our own relay team of Chris Brown, Demetrius Pinder, Michael Mathieu and Ramon Miller, but of fellow Caribbean counterparts and their success in London.
A pair of 19-year-olds from the Caribbean, Trinidad's Kershon Walcott in the javelin and Grenada's Kirani James in the 400m, took London by storm with historic gold medal performances.
The Prime Minister said the Bahamas has the talent and capability to duplicate such feats.
"As a political leader in a country, I want you to each see that you have been example setters, what they call exemplars. Fortune, the good Lord and your talent placed you in a position where you are going to be heroes and young people need to be exposed to you. Grand Bahama, Exuma, Andros, these places where we are going to create 'Centres for Excellence' over a period of time, the government of the Bahamas ought to ensure that they can feel you and see you and touch you," he said. "The commitment that I have given toward ensuring that we find the potentially great young athletes in Exuma, in Andros, In Abaco, Cat Island, wherever they are, I am talking about doing that now."
Of the four relay team members, Miller hails from New Providence, while Brown is an Eleuthera native with Mathieu and Pinder from Grand Bahama.
Brown moved from Preston Albury High in Eleuthera to RM Bailey in New Providence before earning a scholarship to Norfolk State University in Virginia, an example of what Mr Christie hopes can happen with the resurgence in sports development.
The Bahamas comes off a year when its youth programme in track and field has excelled on the regional and international level.
At the Carifta Games, the Bahamas captured 40 medals - 14 gold, 14 silver and 12 bronze - for second place, the best finish in almost 30 years.
The Bahamas has captured a total of nine gold medals in the 26-year history of the IAAF World Junior Championships - four last year led by sprinter Anthonique Strachan's gold medal sprint double.
"Years from now we will assemble and be able to see what we have produced. The declaration we are making now is not based on the government doing it but the government working through them. We are talking about meeting with governing bodies and ensuring that we are giving Bahamians the best opportunity we can in sports and to be able to focus and give them the encouragement that we are doing the right there. Specific coaches, integrating into our system, resources from the government. It is the only way you can justify having the kind of national stadium that we have by producing the quality of athletes for having a stadium of that kind," Mr Christie said. "There are others out there, we just have to be able to ensure that the facilities are out there to develop this knowledge. The people involved in athletics know that the only way the Bahamas can function is that we find these kids in islands of the Bahamas and bring them to New Providence and Grand Bahama on a scholarship basis where they can have accommodation and schooling. We have to think of the big picture."