By LAMECH JOHNSON
Tribune Staff Reporter
ljohnson@tribunemedia.net
A MAN said he saw no signs of remorse from a man who stabbed his estranged wife 17 times - and sentenced him to 30 years in jail.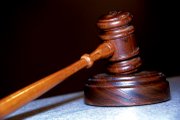 Supreme Court judge, Senior Justice Jon Isaacs, said true remorse requires a recognition of having done wrong, and that the court saw "no such thing" from 45-year-old Michael Scott, who was unanimously convicted of attempting to murder his wife.
While taking Scott's positive probation report into account, in addition to him having already served four years on remand behind bars, the judge considered the nature and seriousness of the offence as well as the damage that was done to the victim, Sheneka Colebrooke.
As a result, he sentenced Scott to 30 years at Her Majesty's Prison, Fox Hill.
Scott, a Jamaican, who lived in Miami, Florida, came to Nassau to spend time with his family and make-up with his wife, Sheneka Colebrooke, on December 20, 2009.
During the trial, the court heard that he had not expected to see his wife on the road in Palm Beach Street in the early hours of that day with 21-year-old David Rolle, her lover, because she had told him she was not involved with anyone.
It was claimed that Scott tried to kill his estranged wife in the road – not far from the home where she lived with her mother.
He stabbed Rolle, causing his death, then repeatedly stabbed his wife, the court was told during the trial.
While the jury returned with a guilty verdict of 8-4 for murder, it was not accepted because it was not unanimous like their 12-0 for the attempted murder charge.
Yesterday, probation officer Lisa Bowleg testified about her interview with the accused and others who knew him.
Ms Bowleg said Scott was generally honest and forthcoming when giving answers to questions.
Speaking with those who knew him, she said they spoke highly of him and said that this stint of criminal behaviour was out of character. They said it had been his first encounter with the law.
Nevertheless, the officer said, the crime was inexcusable as there was poor judgment on Scott's part.
She felt he was repentant and would take advantage of a second chance to redeem himself. He had yet to receive any negative reports from the prison on his conduct since his remand.
He was also making steady progress in life by maintaining a job and being a responsible father.
Prosecutor Darnell Dorsette asked the officer if the condemned man had showed any remorse.
The probation officer answered that Scott did show remorse and speaking with him, he was sorry for his wife's injuries. He said he had not intended to harm anyone and did not realize he was hurting his wife with the knife while using her as a shield from his aggressor.
Mr Ducille, in mitigation, asked the judge to take into account that it was rare to see a convicted man with such a positive probation report.
He said, notwithstanding the nature of the offence, and the impact, the situation was one that escalated after the deceased had acted first.
Senior Justice Isaacs took both reports and submissions into account before sentencing Scott.
He told him that true remorse required a recognition of wrong doing and he said Scott had not done that.
He sentenced Scott to 34 years, however, that was reduced to 30 years because Scott had already served four years in prison on remand.