By RENALDO DORSETT
Sports Reporter
rdorsett@tribunemedia.net
WHILE the week-long celebration around the Bahamas is focused on the "Golden Knights", the entire 26-member team deserves recognition for their efforts and achieving the status of "Olympians."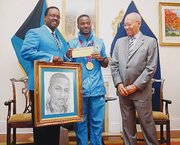 Governor General Sir Arthur Foulkes said the men's 4x400 metre relay team should serve as an inspiration to Bahamians in all walks of life and he also lauded the other members of Team Bahamas for representing the country at the London 2012 Olympic Games.
"Wherever I go in this country I always say that we are the most talented people in the world and I say that without fear of contradiction. In academics, the arts, in sports, the Bahamas has excelled over many generations. You four gentlemen, you have demonstrated again that there is nothing we can not do," he said.
"And I shall say to the rest of you, even though you didn't win medals you are unique in the world because you have qualified to be Olympians, that in itself is a great achievement and for those who became finalists a great achievement and for those of you who got gold medals, just mind blowing. Thank you ever so much for what you have done. These young men will serve as inspiration to future generations of Bahamians."
The week-long celebration for Team Bahamas concludes on Saturday with an island-wide motorcade and a 7pm concert at Clifford Park.
Minister of Youth Sports and Culture Dr Danniel Johnson congratulated the entire team, despite their absence, in particular to historic swimming finalist Arianna Vanderpool-Wallace and injured triple jumper Leevan "Superman" Sands.
"We are here to formally solidify into record these national heroes, but we also wish to formally recognise the entire Olympic team. I sincerely believe it is this team that has brought this great recognition to this country," he said.
"I want the public to understand that we are saluting all the athletes, not just some. A lot of these athletes are very busy, although they are closing their seasons, most of them are student athletes and the vast majority have either returned to their schools or had to return to the United States or other various jurisdictions for other matters."