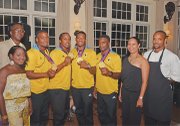 THE New Providence Development Company Limited (NPDCo) hosted an evening reception at their Old Fort Bay Club where residents and staff gave a rousing welcome and late night supper for the four 'Golden Knights.'
The gold medal winning team made the renowned western residential community their last stop at the end of another post Olympic event packed day.
Terry White, owner and chairman of the board of NPDCo, attended the Olympic Games in London and shared in the nation's excitement and pride in the Bahamian men winning gold, and wanted to acknowledge their triumph.
"The performance of the Bahamian athletes was exciting and inspiring," he said. "And to beat the US and win gold in the 4 x 400 metres was a huge achievement. We wanted to show our appreciation and support by hosting a reception for them at our Old Fort Bay Club. We were appreciative that they were able to find the time out of their hectic celebration schedule to attend."
Old Fort Bay Club manager Jason Rolle said it was with joy and pride that he welcomed the 'Golden Knights' - Chris Brown, Demetrius Pinder, Michael Mathieu and Ramon Miller - to the Old Fort Bay Club.
"Thank you for allowing us to share in your victory," he told them. "We understand that to compete and win on the world stage, one must have talent, dedication, determination and funding. The cost of ongoing training programmes, equipment, nutrition and travel are the basic essentials in developing world class Bahamian athletes. With that in mind, on behalf of the owners, management and staff of NPDCo and the Old Fort Bay Club, it is my pleasure to present each of you with a token of our appreciation for a job well done."
Guests included many well known faces from the world of track and field and the Olympic support staff, including Wellington Miller, Olympic committee president, BAAA president Mike Sands, 'Golden Girl' Tonique Williams-Darling, Olympic athlete Wesley Neymour, BAAAs Alpheus Finlayson and Linda Thompson, Diane Woodside - first female head coach on a Bahamas Olympic squad, national team coach Rupert Gardiner, Ricardo Rolle, Larry Glinton, Kathryn Dillett, Winston Marshall and Kermit Taylor.
Old Fort Bay Club members David and Patricia Hughes commended NPDCo on the initiative and the good attendance. "This was a great idea, and we were pleased to see such a good turn-out," said Mrs Hughes. "The young men were very friendly and accommodating, we all got our pictures taken with them."

"It was an electrifying appearance by the Golden Knights," said local resident Tim Covington who, with his wife Liz of Tommy Hilfiger, attended the welcome cocktail reception. "We were thrilled to meet them and warmly embraced the opportunity to congratulate them as conquering heroes!"
Alistair Henderson, NPDCo president, said that the company quietly supports many local cultural and community fund raising initiatives. "Our chairman Terry White suggested we hold this event for the 'Golden Knights' and I am extremely pleased that it went so well. Our home owners and their guests were thrilled to meet the young men who, despite a long day, were gracious and accommodating with their time, signing autographs and having their picture taken."