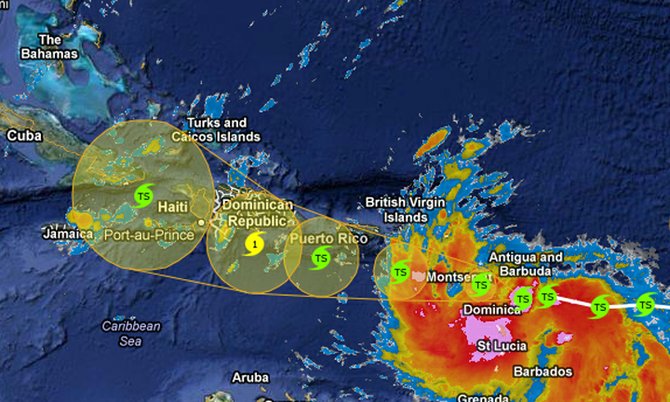 By SANCHESKA BROWN
Tribune Staff Reporter
sbrown@tribunemedia.net
BAHAMIANS should brace themselves for stormy weather as a tropical storm – predicted to be Hurricane Isaac by the time it nears the Bahamas — is projected to move across the southeast Bahamas this week.
According to Forecaster Wayne Neely, while the weather system is still a tropical storm steady strengthening is forecast throughout the week. The system could become a hurricane as early as tomorrow.
"Right now on its current track it is expected to affect us by Saturday. On its track it will pass over the Dominican Republic and Haiti by Saturday. Depending on what happens there and if it slows down over the mountains, that will determine where and how its affects the Bahamas," he said.
"It is expected to hit the southeast Bahamas by the weekend and affect the islands of Inagua, Crooked Island, San Salvador and Rum Cay. It will not be a direct hit but residents will experience tropical storm winds, heavy rain and flooding in low lying areas. No matter what happens if the storm turns or slows down we will still feel the effects in New Providence."
Mr Neely said it is too early right now to determine how it will impact the Bahamas, but he is encouraging residents to pay attention to future alerts from the Department of Meteorology.
Initial impacts from this latest Atlantic system will be felt in the northeastern Caribbean islands Wednesday into Thursday.
Tropical storm watches and warnings have been issued for Puerto Rico, the U.S. Virgin Islands, Vieques, Culbera, Saba, St. Eustatius, St. Maarten and the British Virgin Islands.
Tropical storm warnings have been issued for Dominica, Guadeloupe, Desirade, Les Saintes, Marie Galante, St. Martin, St. Kitts, Nevis, Antigua, Montserrat and Barbuda.
Heavy rainfall, flooding and mudslides will be threats in all of the northern Caribbean islands regardless of how strong the system becomes.
The storm became the ninth tropical depression for the year in the central Atlantic.