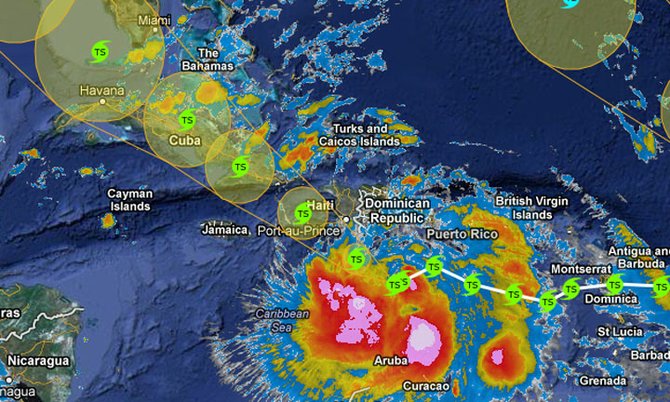 By CELESTE NIXON
Tribune Staff Reporter
cnixon@tribunemedia.net
RESIDENTS of the south eastern Bahamas should prepare to experience tropical storm conditions from Tropical Storm Isaac by early Saturday morning, officials said yesterday.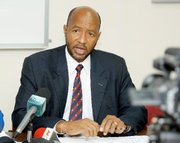 Speaking at press conference at the headquarters of the National Emergency Management Agency, (NEMA) deputy director of the Bahamas Meteorology Department Trevor Basden said an alert 'five' had been issued for Tropical Storm Isaac as it moves closer to Haiti and the Dominican Republic.
A Tropical Storm Watch was put in place for the Turks & Caicos and the south eastern Bahamas which includes Inagua, Mayaguana, Long Cay, Ragged Island, Crooked Island and Acklins - meaning tropical storm conditions could hit the listed islands over the neat two days.
As of yesterday afternoon Tropical Storm Isaac was moving westward across the eastern Caribbean Sea at 15 mph but was expected to turn north, north west hitting the Dominican Republic and Haiti this afternoon and Cuba by noon on Saturday.
Mr Basden said: "What that means for us in the Bahamas is that tropical storm force winds should start hitting Inagua early tomorrow morning and will end around 1pm the same day."
Mr Basden said Ragged Island would start feeling the effects of Isaac around 2pm tomorrow - expected to last until early Sunday morning.
He said yesterday Tropical Storm Isaac was a 'minimal' tropical storm, with a maximum sustained wind of 40 miles, but while not yet a hurricane, it was expected to strengthen as it nears the Dominican Republic and Haiti.
In the Bahamas, Andros would be the island most affected by the storm, experiencing tropical storm conditions around 4am on Sunday, he said.
Mr Basden said it was hoped that the storm would weaken once it moves over land, but the public should remain prepared.
"Tropical storm force winds extend out 140 miles - it is a good size storm, however, I do believe impact with land especially the Dominican Republic might just destroy Isaac," he said.
"Even as impact with Cuba might destroy it, it might also displace it, that is why we are in this state of readiness."
Basil Dean, deputy director of The Bahamas Meteorology Department, said yesterday: "Residents in the south east Bahamas should make preparations for possible tropical storm conditions late Friday and Saturday."
AccuWeather meteorologist Mike Pigott said on Wednesday Isaac was expected to turn into a hurricane near the end of the week but was likely to pass to the west of Florida and away from The Bahamas.
Regardless, he warned, The Bahamas - especially the southern islands - would experience heavy storms as Isaac travels northwest.
"(The Bahamas) is going to be looking at heavy thunderstorms, wind gusts, and definitely large waves and dangerous surf," Mr Pigott said.
"Certainly, the southern Bahamas is going to take much more of the brunt because I think they are going to see a closer path than Nassau or Freeport."
First Assistant Secretary at NEMA, Crystal Glinton, said NEMA had been in touch with the Family Islands monitoring the storm since Tuesday and they were fully prepared for Tropical Storm Isaac.
NEMA was now at 'partial activation', working from its National Emergency Operations Centre in the Churchill Building.
A core staff from NEMA will be stationed at the NEOC to monitor Isaac and ensure that proper procedures are followed, and to stay in contact with the Bahamas Department of Meteorology.
Chrystal Glinton encouraged residents in the Southern Islands to be fully prepared for the storm, stocking up on medications, food and water and any other necessary supplies.
'Partial activation,' means that the situation has escalated into a real threat to the islands or areas in the projected path, with 48 hours to go before any impact.
During this time, a watch is issued which means that the storm is 48 hours or two days out.

Level III and Level IV are full activation, when the NEOC is fully operated over a 24-hour period and depending on the severity of the storm, the Prime Minister is advised to address the nation on the potential destruction the system would cause.
By this time, residents should be in a wait and see mode and should have already made all preparations for landfall.
Such preparations include securing personal documents and seeking shelters in the event an evacuation order was previously issued. This means the system is 36 hours out.
The ESF groupings are made up of personnel from essential services such as health, police force, defence force, water, electricity, shelter management, and other related areas.
Luke Bethel, training operations manager at NEMA, said NEMA was prepared and had tied up with Nassau Airport Development and Odyssey Airport over flights and the exemptions that would apply after a natural disaster.
Mail boats and volunteer groups have been contacted to assist with supplies after the storm if needed, he said.
Mr Bethel said the Royal Bahamas Defence Force were also in position and had advanced teams that would be deployed to the Family Islands if necessary.
"Work is being done even if you don't see it, things are happening and are in place," said Mr Bethel.
"We have on standby damage assessment teams that are ready to be deployed from various agencies to feed back information."