By DANA SMITH
Tribune Staff Reporter
dsmith@tribunemedia.net
POLICE officers will be stationed in schools across the islands come the start of the new term in September.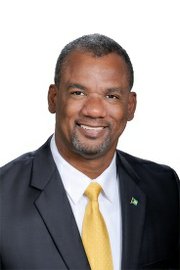 Education Minister Jerome Fitzgerald said the government was committed to bringing back the school-policing programme as safety was conducive to teaching and learning.
"Since I came into office in May my ministry has been working feverishly to fulfil the government's national vision for the education system in the Bahamas through the implementation of innovative programmes, cutting edge instructional and technical initiatives and strategies," he said.
"School-based police officers will be responsible for developing positive relationships with members of the school organisation and establishing protocol for the prevention and investigation of all school related occurrences of violence and criminal activities in the school."
The Education Minister said that the programme would in no way diminish or make obsolete the authority and responsibility of administrators, teachers and security officers.
Rather, he said, the officers would complement the disciplinary programmes and strategies already in place.
"We take seriously our role in protecting the students in our care and we have and will continue to do our best to assure parents and the community that we will do all within our powers to keep our children safe and sound while at school," Mr Fitzgerald said.
"The school-based policing programme will commence on the first day of school. A school policing unit will be established within each division and school-based police officers will be assigned to each school with effect from September 3."
An inspector will have direct responsibility for the assignment of officers within each division.
The school-based police officer will have a reporting relationship with the inspector of his division and the principal of the relevant school.
In preparation for the programme, the Education Ministry has coordinated a two-day training workshop to be held at the Police Conference Centre. School administrators are invited to attend to meet with divisional commanders and officers responsible for their schools.
"Our main goal for this workshop is to create an environment that aims to ensure our children are safe," Mr Fitzgerald said.
"It is important to note that the main objective of the school-based policing plan is to provide support for the school administrators. Trained police officers will work in collaboration with the principal and faculty of each school. This partnership with the Royal Bahamas Police Force will promote positive relationships between the community and police."