By DANA SMITH
Tribune Staff Reporter
dsmith@tribunemedia.net
HER Majesty's Prison was yesterday presented with $50,000 worth of state-of-the-art anti-contraband equipment, courtesy of the US Embassy.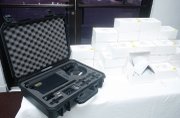 The equipment includes a chair capable of scanning the body for hidden weapons, a drug screening kit that provides results in minutes, and two cell phone detectors.
National Security Ministers Bernard Nottage and Keith Bell were on hand at the prison to receive the new technology along with Prison Superintendent Dr Elliston Rahming, who revealed the prison confiscates as many as 20 cellphones per week.
The cell phone detectors are in fact two specialised signal detectors that are capable of finding listening devices, unauthorised signals such as cell phones, and other "potentially dangerous" electronic devices, according to the US Embassy.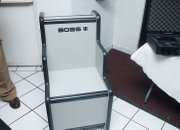 Dr Rahming explained: "Cellular phones are rampant in prisons throughout the world. While our problem is challenging, it pales in significance compared to other places, yet we want to bring it to a minimum because of the potential harm that cell phones can cause within the penal institution."
He said officers confiscate so many cell phones thanks to the prison's "rigorous" search programme.
"We have a bonfire every quarter where we literally burn cell phones that are confiscated," he said.
Also gifted was a BOSS chair – a Body Orifice Security Scanner – which Dr Rahming said is "widely used" in prisons throughout the US to detect metal objects hidden in the body.
"It is far more sensitive than the normal hand-held scanners," he said.
Lastly, a Dip Device Drug Screening Kit, which can detect the presence of marijuana, cocaine, and other illegal drugs within minutes, was also given to the prison.
"In the past, in order to determine whether inmates had drugs in their system we had to take a sample and send it to a lab somewhere. That has now been eliminated because in less than a minute we would know whether an inmate has drugs in the system," Dr Rahming said.
The screening kit is even capable of telling officers if the inmate has recently used drugss, he said.
"It's a very sophisticated system, so that allows us to make almost instantaneous judgement as to which housing unit an inmate should go to, whether he is fit to go out on a community project or a work programme, whether he's fit to live in this facility as opposed to that facility – those kinds of things," he said.
Prison officials estimate as many as 80 per cent of incoming inmates test positive for illegal drug use with marijuana being the most predominantly abused drug.
"We're not pleased with the level of contraband – you're never pleased – and so we're always looking for new ways to reduce the inflow of contraband coming into the prison and these devices, I think, will assist us greatly," Dr Rahming said.