By LAMECH JOHNSON
Tribune Staff Reporter
ljohnson@tribunemedia.net
A PINEWOOD Gardens man was remanded to prison without bail after he was arraigned on multiple charges of unlawful sex with an underage girl. The first offence is alleged to have taken place nearly two years ago.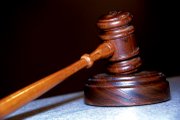 Ivan Gaitor, 44, of Spice Street, appeared before Chief Magistrate Roger Gomez yesterday facing six counts of unlawful sexual intercourse with a girl from the time she was 12 until she was 14.
It was claimed that between December 17, 2010 and June 6, 2011, he had sex with the girl who was only 12 at the time. Then, according to the charge, between June 7, 2011 and March 31 of this year, the man again had sex with the girl who had turned 13.
The remaining counts, according to court dockets, occurred on April 1, June 14, July 18, and finally August 18 of this year.
Gaitor was not required to enter a plea to the charges. The police prosecution indicated its intention to have the case tried in the Supreme Court.
Chief Magistrate Gomez told the man that a Voluntary Bill of Indictment would be served to him on November 7 to fast track his case to the Supreme Court for trial.
Concerning a bond, he said: "To get bail, you would have to apply to the Supreme Court."
He was remanded to Her Majesty's Prison until completion of trial.
Attorney Michael Kemp appeared for the accused at yesterday's arraignment.