By CELESTE NIXON
Tribune Staff Reporter
cnixon@tribunemedia.net
THE Bahamas escaped any serious impact from Tropical Storm Isaac but weather experts are warning the country to stay alert for another weather system developing in the Atlantic.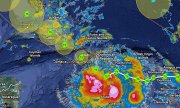 The system, expected to be named 'Joyce' if it develops, is moving in a northwestward direction and is currently several hundred miles off the Cape Verde Islands.
Meteorologists are watching the system which has the potential to develop into a tropical depression. If the Caribbean is affected it will not be for another five to seven days.
On Sunday night, the National Emergency Management Agency (NEMA) discontinued all tropical storm watches and warnings for the Bahamas, giving the country the all-clear following the passage of Isaac.
At 6pm, NEMA deactivated its National Emergency Operations Centre (NEOC) which had been partially activated to monitor the movements of Isaac.
Last week NEMA predicted that Andros would be the island most affected by the tropical storm, however, chief councillor James Pratt, speaking with The Tribune yesterday, said it was barely hit.
With the exception of two downed BEC poles and a few phone lines not working in the community, he said Andros fared well.
"God has blessed us tremendously," Mr Pratt said.
According to AccuWeather forecasters, the Bahamas was still experiencing squalls and bands of wind up to 30 to 35 mph on Sunday, bringing down some smaller trees and hundreds of tree branches but Isaac's impact diminished yesterday as the system moved out of the area.
That evening Isaac was moving west-northwest with maximum sustained winds of around 60mph, with the centre of the storm passing 40 miles south west of Key West, Florida.
Although the Bahamas was off the hook, the US was braced for the worst, with hurricane warnings for an area stretching from Louisiana to the Florida Panhandle.
Many flights to and from the Bahamas from Miami International Airport were cancelled on Sunday and fears have grown that Isaac could eventually be a strong Category 2 hurricane by the time it reaches the Gulf Coast.
Louisiana's Governor has already declared a State of Emergency.
Meteorologists expect Isaac to strengthen into a hurricane over the eastern Gulf of Mexico and to hit the northern Gulf Coast by Tuesday night.