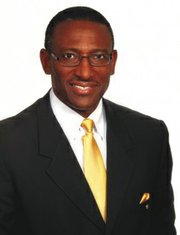 By KHRISNA VIRGIL
Tribune Staff Reporter
kvirgil@tribunemedia.net
AGRICULTURE and Marine Resources Minister Alfred Gray yesterday urged Potters Cay and Arawak Cay vendors, who have refused to make an effort to settle outstanding rent, to pay or face a police enforced shut down.
The warning comes after a recent meeting, Mr Gray said, in which several hundred vendors and their associations met with the government, ultimately agreeing on a monthly payment scheme to settle arrears. Officials have asked Potters Cay Dock and Arawak Cay vendors to pay $100 and $200 respectively.
He added that records have shown some vendors with 
arrears amounting to $30,000 and $40,000 accumulated around a seven or eight-year period.
"I had indicated before I went on leave," Mr Gray said, "that I expect those who are involved in the business at those places, that the arrears that has been allowed to accumulate is unacceptable. Those whose leases are in arrears should pay a small amount on the arrears for the vendors at Fish Fry or Arawak Cay.
"I am told that some vendors are belligerent. They are refusing to accept that proposal. And unless the cabinet of the Bahamas stops me, I am going to ensure that those who have no leases are not licensed. If they have no license to operate, I am going to ask the police to close them down."
Mr Gray could not give a ball park figure of the vendors who had started paying the fees.
When asked why the government was taking such keen interest in regulating and updating the vendor's leasing system, Mr Gray said laws in the country apply to everyone.
"I think," he said, "Bahamians expect the government to govern. If people in certain sectors could have arrears (of) thousands and we do nothing about it, then the whole country is going to follow that example. What you don't do to Peter, you should not be expected to do for Paul. If they were not making money, I would have mercy and pity, but they make money. They just don't believe the government should get what is due to it."
And to vendors who claim they cannot afford monthly payments, Mr Gray said it is best to "get out of the business."
"If you are out of the business, take down your sign. You can't be in business, making money for yourself, and believe the government could carry on the governance of this country without everyone paying their fair share."
Mr Gray said the vendors have been given a two-week period to sign agreements with officials to ensure a good standing.