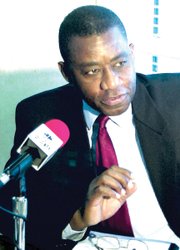 By NEIL HARTNELL
Tribune Business Editor
nhartnell@tribunemedia.net
A FORMER finance minister has questioned whether the Bahamas truly recognises it has "a very serious problem" in the Government's fiscal position, and called for a "top up" approach to reining in excessive spending.
James Smith, also an ex-Central Bank Governor and now key Ministry of Finance consultant, told Tribune Business that rather than continuing to adopt a 'top down' strategy for curtailing government expenditure, the onus should be placed on all the Corporations and agencies that ultimately receive taxpayer largesse.
With the 2012-2013 fiscal deficit projected to be $550 million, and the national debt marching towards $5 billion, Mr Smith pointed to the likes of the Water & Sewerage Corporation, Bahamasair, Broadcasting Corporation of the Bahamas and Hotel Corporation as entities that needed to do more to justify the taxpayer subsidies they were receiving.
Together these four, and especially the first two, receive a combined $60-$70 million in annual taxpayer subsidies, and Mr Smith said they - and other government agencies - needed to show more in terms of spending cuts and justifications for continued taxpayer support.
The CFAL chairman said that while Bahamians see "spending by Corporations, there's no controls being brought to bear year after year".
While the Government, via the Ministry of Finance, was attempting to get the public finances back in order from the centre, Mr Smith suggested that the initiative should not be "coming from the top down, but the bottom up".
He added that demands should be made of the public corporations to "show savings, justify the things you're asking for". The likes of the International Monetary Fund (IMF), and Wall Street credit rating agencies such as Moody's and Standard & Poor's (S&P), had all given the Bahamas time to come up with a plan tackling such issues, Mr Smith said.
"We need to see a plan with expenditure controls dealing specifically with efficiency and waste," Mr Smith told Tribune Business. "We will not have to make drastic cuts, but would be doing things somewhat better and more efficiently. These plans have not been produced."
Tribune Business last week reported that an IMF working paper found that to stabilise the Bahamas' debt-to-GDP ratio from 2011, the country needed to undergo a fiscal adjustment equivalent to 2.7 per cent of gross domestic product - a sum between $200-$250 million. It also needed to run a surplus on its primary balance equivalent to 0.4 per cent of GDP.
Agreeing with Tribune Business's assessment of the $200-$250 million range, Mr Smith expressed doubt over whether the Bahamas could sensibly achieve this.
Noting that it called for revenue increases, sharp spending cuts or a combination of the two, the former finance minister said it would "not be easy" to achieve the fiscal adjustment the IMF paper was calling for over a two-year period.
"I can see that we could get half that amount helped by debt rescheduling, but we would only be deferring that for a year or two," Mr Smith said.
Acknowledging that the Bahamas was confronted by "some really serious challenges" on the fiscal front, he added that how this nation responded - and its chances of success - were two legitimate questions.
The "root cause" of the Bahamas' fiscal problems were the US economic slowdown, followed by recession there and everywhere else, which caused tourist air arrivals and spending to drop-off dramatically.
That took much of the Bahamas' economic activity with it, and the structure of this nation's economy further complicated the response. "It's pretty difficult, given the open design of the economy, and we're pretty much dependent on external events," Mr Smith told Tribune Business.
Setting aside overspending by the former Ingraham adnministration on capital works projects, Mr Smith said this had only served to mask persistent, multi-million dollar nine-figure deficits on the Government's primary deficit or recurrent account.
Spending controls should have been put in place when this trend became evident, he added, but were not with the result that "year after year you're having a build-up" in the recurrent deficit.
With any impact from the Government's medium-term fiscal adjustments, such as the tax reform 'White Paper' and improvements to Customs administration, a year to two away, Mr Smith also acknowledged the IMF paper's finding that the Bahamas had the lowest tax revenues, as a percentage of gross domestic product (GDP), in the Caribbean.
"That is part of the problem as well," he told Tribune Business. "We genuinely need to recognise it [the fiscal position] as a very serious problem. We've given a lot of lip service to it, no doubt about that, but is that true recognition?"