By BRENT STUBBS
Senior Sports Reporter
bstubbs@tribunemedia.net
COACH Sherman Smith has the Carlton E Francis boys and girls primary school basketball teams on a roll.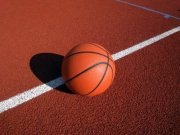 While the girls have not won their first title yet, the boys have been holding their own, winning two consecutive titles after falling short in the previous one.
"We are playing pretty good right now," said Smith, whose team had a day to celebrate during a special assembly at Carlton E Francis yesterday. And the team will be treated to lunch today.
"I expected us to do very well last year, but we fell short. But we continued to work at it and we came back and did it."
At the beginning of November, Carlton E Francis fell short of winning the third annual Bahamas Gold Trading Temple Christian Primary Schools Basketball Tournament, losing 43-41 to Temple Christian in the championship game.
Shaking off the heartbreaking defeat, Smith got his Carlton E Francis boys regrouped as they returned the favour by eliminating Temple Christian by two points in the semifinal of the Cybots Thanksgiving Basketball Tournament before they pulled off the title with a 33-31 win over the Our Lady's Blue Flames.
Carlton E Francis got a chance to avenge a loss to Our Lady's during the round robin play.
Carlton E Francis girls, however, lost to Temple Christian in the championship game.
Then on Friday, Smith guided his Carlton E Francis boys' team to victory in the New Providence Primary Schools Sports Association's basketball tournament with a 27-13 decision over EP Roberts as they capped off a perfect appearance in seven games played.
Carlton E Francis girls were unsuccessful in defending their title as they lost to EP Roberts in the playoffs.
Oakes Field Primary, last year's runners-up, eventually emerged as this year's champions as they won the title over EP Roberts.
"We were trying to win both the boys and the girls titles this year, but one of my girls didn't have a good day and we got beat," Smith said.
Smith said this year's boys team had an excellent tandem of Garvin Clarke, Stephon Smith and Javon Woodside, whom he relied on to pull them through.
However, he said he sat Woodside down and assured him that as a starter from grade four, the team's success rested on his shoulders.
Woodside, according to Smith, took up the mantle and led the team to victory. "He delivered. He came through and got the MVP in the government league," Smith said.
Smith and his Carlton E Francis squads won't have that much time to celebrate as they are scheduled to be back in action on Friday when the Ministry of Youth, Sports and Culture kicks off its prestigious annual Father Marcian Peters Invitational Basketball Tournament at the Kendal Isaacs Gym.
"We are trying to win that tournament," said Smith, who noted that he has never won that title in the seven years he's been working with Carlton E Francis boys and the four years with the girls.
"We came second twice with the girls and the boys were third last year. So we hope that we can do it this year."
The Father Marcian tournament is expected to bring together both public and private schools in New Providence in competition against the visiting schools from throughout the Family Islands. The tournament is also geared towards the junior boys and girls, intermediate boys and senior girls divisions.