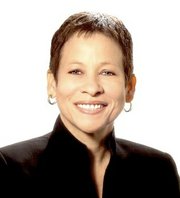 By CHESTER ROBARDS
Tribune Senior Reporter
crobards@tribunemedia.net
THE GOVERNMENT is digging deeper into the oil spill controversy, questioning if it was "prudent" for the cargo ship to be ordered out of Freeport Harbour as it spewed out "3,000 gallons" (8-10 metric tonnes) of oil.
Minister of Transport and Aviation Glenys-Hanna Martin told the media in a press conference yesterday that they are investigating, among other things, whether the MSC Eugenia should have continued out to sea as oil leaked from a gash in its hull.
Sources close to the harbour pilots who escorted the ship out told The Tribune that they were ordered by the port department to tow the ship 14 miles out to sea so that the oil would not contaminate the port area.
Port Controller, Commander Patrick McNeil, said during the press conference that the cargo-laden ship had to continue on its course after its hull was punctured while three miles outside the harbour.
"The ship was leaving the channel when the accident happened," said Cmdr McNeil.
"It is better to go out to sea than to return back to the harbour.
"To turn back around and go back to the harbour would not be in the best interest of the harbour."
Minister of the Environment, Kenred Dorsett, said after surveying the area 14 miles from Grand Bahama during a flyover, it was noticed that the oil slick had been carried out to sea by the ocean currents.
The Oil Spill Committee is scheduled to do another flyover of the area tomorrow.
Ms Hanna-Martin said the government has received full cooperation from the ship and port authorities and that the ship's owners will be fully culpable for any costs related to the spill.
"Responsibility for meeting the cost of dealing with pollution and for meeting claims for damages rests with the ship's owners," she said.
She added that the Minster of Foreign Affairs has been asked to formally communicate with the US to discuss any possible impact the spill might have.
"It's a matter of comity, just in case there is an issue. We ought to let our neighbours know," said Ms Hanna-Martin.
The ship is currently boomed in Freeport Harbour, having its cargo unloaded before it can be put on dry dock for repairs, according to Mr Dorsett.
Cmdr McNeil said the hole in the ship appeared to be about 15 feet long and about five feet high.
"The hole on the side of the ship is a sizeable one, but it's not that large," he said.
Mr Dorsett said the Bahamas has always been prepared to handle the oil spill at sea, as a large number of vessels transport oil through these waters.
"The reality is when you look at the amount of barrels of oil that find its way for storage purposes on Grand Bahama, they come by ship, and so there is a live threat now when you consider the transshipment of petroleum and oil throughout our waters," he said.