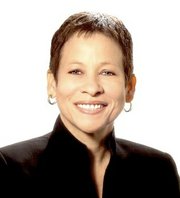 By CHESTER ROBARDS
Tribune Senior Reporter
crobards@tribunemedia.net
A FLIGHT over Freeport Harbour yesterday revealed no traces of oil from the damaged cargo vessel that tore a hole in its hull on Monday.
The Ministry of Transport and Aviation took the media on a flyover of the area to view where the MSC Eugenia sustained its damage and where the ship leaked 3,000 gallons of oil into the ocean. The Eugenia could be seen at the Freeport Container Port surrounded by containment booms waiting to be put onto dry dock for repairs.
Minister of Transport and Aviation Glenys Hanna-Martin said the spill continues to be investigated as the oil moves out into the Florida Straits through natural tidal action.
"We have to continue to be vigilant, to monitor it, and to ensure the situation is completely dissipated and that we're able to conduct an investigation," said Ms Hanna-Martin.
"There are two phases. One was the oil containment and the second is the investigation of the facts surrounding the incident."
Consultant with the Ministry of Transport and Aviation, Brent Williamson, said MSC has been very cooperative in assisting with the investigation of the spill.
During the flyover, Mr Williamson noted that the absence of oil around the hull of any of the ships in the port and just outside the port was a good indication that the spill impact has been mitigated.