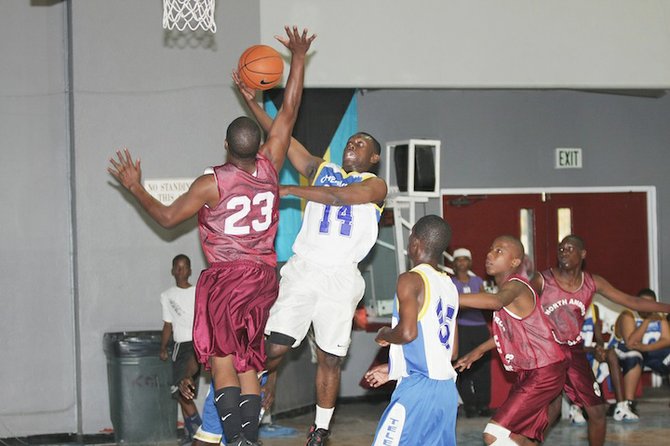 By BRENT STUBBS
Senior Sports Reporter
bstubbs@tribunemedia.net
TEAMS are jockeying for a chance to play on the final day of competition as the action starts to heat up in the 27th Father Marcian Peters Invitational Basketball Tournament.
Day five of the Ministry of Youth, Sports and Culture's organised event featured competition in the primary and intermediate boys divisions at the Kendal Isaacs Gym on Tuesday.
In the only primary boys' game, Carton E Francis continued its impressive performance this year, knocking off the visiting North Andros Seminoles 26-12.
The junior boys division saw Christian Heritage nip Temple 30-29, TA Thompson routed Arthur's Town, Cat Island 21-7, Harbour Island, off Eleuthera, stunned the HO Nash Lions 31-11, North Andros came back to avenge their defeat by holding off the Teleos Cheribums 26-21, Queen's College Comets outlasted AF Adderley Fighting Tigers 24-21 and DW Davis Pitbulls clobbered Akheren 46-4.
Dwayne Smith, head coach for the Comets, said Queen's College is out to prove that they have the team that can compete with any school in the country. But he admitted that they didn't perform as well as he had anticipated.
"We only played one good quarter. All of the other quarters we played 21," Smith said. "Even though we won, I didn't feel that good. I feel better when we play better. As the tournament goes on, we will definitely have to play much better than this if we are going to have a chance to win."
Rumalo Ellis paced the Comets with six, while Kristan Brown added five in the win. Jarvan Burrows had a game high 10 and Domnick Bridgewater chipped in with eight in a losing effort.
Tournament director Michael 'Scooter' Reid said they are pleased with the way the tournament is going so far.
The elimination process has already begun as the tournament heads into day six today.
Gone in the intermediate boys are Teleos, CW Saunders, Hope Academy, RM Bailey, Anatol Rodgers, Westminster and CC Sweeting.
Still remaining in the east are CI Gibson, Arthur's Town, Queen's College and CV Bethel. Both Doris Johnson and Temple Christian are on the brink of elimination as they are playing out of the losers bracket.
In the west, San Savaldor, SC McPherson, CR Walker and North Andros are all still in. HO Nash is playing out of the losers bracket.
The senior girls division has Temple Christian still undefeated at 2-0 with CR Walker at 2-1. CI Gibson and North Andros have not played as yet.
And in the primary division, Hillcrest has emerged as the surprise in the east at 2-0. They are joined by Harbour Island and Christian Heritage, who are all still in. Temple Christian is playing out of the losing bracket.
In the west, Carlton E Francis is undefeated at 2-0. Still in are Our Lady's and Exuma. Fighting out of the losing bracket are North Andros, Teleos and Temple Christian A.
The action is slated to resume, starting 3pm today at the Kendal Isaacs Gym.