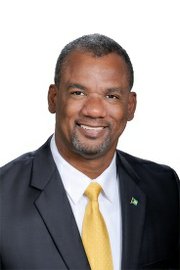 By DANA SMITH
Tribune Staff Reporter
dsmith@tribunemedia.net
THE government is working to free up hundreds of thousands of dollars to cover a new industrial agreement for non-faculty employees at the College of the Bahamas, Education Minister Jerome Fitzgerald said yesterday.
Speaking outside Cabinet, Mr Fitzgerald explained that funds to cover the improved contract were not allocated in the budget, so now he will move to "make a Supplementary Appropriations Bill".
About 350 non-faculty workers have been agitating for a new industrial agreement since their last contract expired in 2009.
John Pinder, president of the Bahamas Public Service Union which represents the employees, said they have been negotiating with COB's College Council but reached an impasse when it came to financial considerations.
Mr Fitzgerald said: "Its just a question of making financial arrangements in order to fulfil some commitments that obviously were in the agreement that weren't put in the budget and so we'll have to make a Supplementary Appropriations Bill in order to get that done.
"That's what will be coming to Cabinet. We're trying to get the numbers finalised and I think we have those totals now and so if I don't bring it up today, I'll be bringing it up next week."
When asked to provide an estimate of the total cost, he said: "A couple hundred thousand dollars."
Responding to reports of an impending strike by the employees, the minister said there are a lot of demands on the government's budget and ministers "do the best (they) can" to meet those demands.
"As I said, the allocation wasn't prepared or made in the budget and we're moving now to find the funds to do it," he said.
"It is no secret that there are a lot of demands on the public treasury now and we're trying to do the best we can to meet whatever obligations the government is committed to – to various unions and individuals throughout the country."
Mr Pinder said yesterday that not seeing any progress on the issue since August prompted them to file a trade dispute which is the first stage into applying for a strike vote.
"We're hoping to hear from them sometime tomorrow and we'll take it from there," he said.
"That's the protocol when a government agency does not have the funds in their budget."
He added he hopes the matter moves forward quickly.