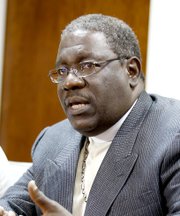 By NEIL HARTNELL
Tribune Business Editor
nhartnell@tribunemedia.net
A member of CLICO (Bahamas) creditors committee yesterday said he was "very dismayed at the length of time" required to wind-up the insolvent insurer, and expressed hope that it would not take as long as the Gulf Union Bank and Banco Ambrosiano liquidations.
Bishop Simeon Hall told Tribune Business that "thousands" of Bahamian pensioners still had no idea when they would recover even a portion of the monies owed to them.
Recounting how one elderly woman had told him she "can't die" because the CLICO (Bahamas) collapse had robbed her of the legacy she planned to leave her family, Bishop Hall accused successive governments - both FNM and PLP- of being "asleep at the wheel" when it came to the insurer's regulation.
Commenting after Tribune Business revealed that a key part of CLICO (Bahamas) liquidation was being delayed by the Government's failure to complete a promised $30 million guarantee, Bishop Hall told Tribune Business: "I've been a little disturbed and very dismayed at the length of time this process is taking, and there's no hopeful sign it will be resolved any time soon."
Pointing out that he himself retired three weeks ago, Bishop Hall said his CLICO (Bahamas) pension/annuity was supposed to be a major part of his retirement funding.
While he had other resources to fall back on, the churchman said: "I think of the thousands of pensioners who were waylaid by CLICO, and it continues to go on.
"I hope it does not go on as long as Gulf Union Bank (Bahamas) and Banco Ambrosiano. We continue to pray and agitate for change."
Gulf Union Bank, which was put into liquidation in 1998, is still being wound-up under the Supreme Court's supervision some 14 years later. As for Ambrosiano, its ongoing liquidation has spanned more than three decades.
In all honesty, CLICO (Bahamas) winding-up was never going to be a simple affair, due to the multiple jurisdictions and entities involved, its insolvent nature and the lack of co-operation from key principals.
Some 62 per cent of CLICO (Bahamas) assets were invested in the Wellington Preserve real estate project in south Florida, meaning that development has to be liquidated and sold as a first step prior to doing anything else.
The proceeds then have to be upstreamed to CLICO Enterprises, the 'pass through' entity through which the funds were invested. CLICO Enterprises has then to be liquidated, with all creditors dealt with.
Then, only then, can liquidator Craig A. 'Tony' Gomez begin the winding-up of CLICO (Bahamas).
However, the wait for the $30 million guarantee has delayed the transfer of CLICO (Bahamas) remaining 14,000 strong policy portfolio to another buyer.
Tribune Business revealed yesterday how obtaining the guarantee is vital to transferring the remaining life, health, pension and annuity policies to another insurance carrier. Given the insolvent insurer's solvency deficiency, with liabilities likely exceeding recovered assets, the guarantee is needed to 'back stop' or underwrite the purchase by another carrier.
Tribune Business understands that potential buyers have already communicated to Mr Gomez that they will not be interested in acquiring the CLICO (Bahamas) portfolio unless the Government's $30 million guarantee is in place.
Bishop Hall, while recognising that the Government was 'strapped for cash', compared the Bahamas' response to the CLICO collapse to other Caribbean countries, whose governments had done more to "remediate" the financial group's collapse.
Noting that the life savings of hundreds of Bahamians had been jeopardised by "millions of dollars leaving the country", Bishop Hall questioned how CLICO (Bahamas) was seemingly able to do this and circumvent exchange control regulations.
"To be honest, both governments, both political parties, have been asleep at the wheel," Bishop Hall told Tribune Business. "Something went awry with that whole process."
And he added: "I've spoken to pensioners, elderly people who thought this would be around for them as they aged, and reached the end of their rope.
"One elderly lady told me she can't die. The things she had in place to help her family have been thrown aside.
"There's a myriad of problems, and we continue to ask government for better regulations to protect these people."
At end-June 2012, CLICO (Bahamas) portfolio contained 13,835 policies with a total surrender value of $20.074 million and cumulative sum assured of $1.093 billion.
CLICO (Bahamas) Bahamian balance sheet showed a solvency deficiency of $22.162 million at June 30, 2012, with total assets worth $44.794 million outmatched by liabilities totalling $66.956 million.
Mr Gomez has also made little progress in enforcing the $58 million guarantee given in favour of CLICO (Bahamas) by its Trinidadian ultimate parent, CL Financial. If that is successfully enforced, it could repair the hole in the Bahamian insurer`s balance sheet.