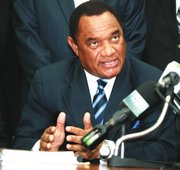 By NATARIO McKENZIE
Tribune Business Reporter
nmckenzie@tribunemedia.net
PRIME Minister Perry Christie yesterday indicated that the Government was making little to no headway in wresting back majority control of the Bahamas Telecommunications Company (BTC), saying a conclusion had to be reached in talks between itselfand Cable and Wireless Communications (CWC) "sooner rather than later".
Mr Christie, who last week said there had been no significant developments in talks between the Government and CWC, added yesterday: "Cable and Wireless have given us the complete assurance that they have no intention of selling their Bahamian asset.
"I could understand why they wouldn't sell it because it's a profit centre for them, and the only concern I would have at this stage is that we have to reach a conclusion on our talks sooner rather than later, whatever that conclusion is, so that the Government of The Bahamas can review whatever options are available with respect to moving forward."
Mr Christie, who noted that talks between the Government's four-member negotiating team and CWC executives have been suspended until the New Year, said: "You reach a point in your discussions where you are talking to each other and reaching no headway, so clearly I would have to thank early in the New Year the persons who agreed to represent the Bahamas in the talks, and meet with them with a view to determining when they are discontinued.
"They suspended until the New Year, and I imagine that they are going to have a meeting or two, but if the sides remain fixed as they are now there will be no purpose to continue."
Mr Christie said that if talks fell through, the Government would have to assess its options and reach a determination on the way forward.
"It's a question as to what the options are to the Government. As the minister who has been leading these negotiations, I would have to speak to my colleagues about our options and indicate what those options are," said Mr Christie.
The Government's four-member negotiating team features Arawak Homes chairman Franklyn Wilson; former BTC chief executive Leon Williams; ex-Ministry of Finance legal adviser Rowena Bethel; and ex-attorney general and key confidant of Mr Christie, Sean McWeeney
They began face-to-face talks with their CWC counterparts back in October, as the Christie administration forged ahead with plans to regain a controlling interest in BTC. The Government currently owns 49 per cent of the company, and CWC 51 per cent.