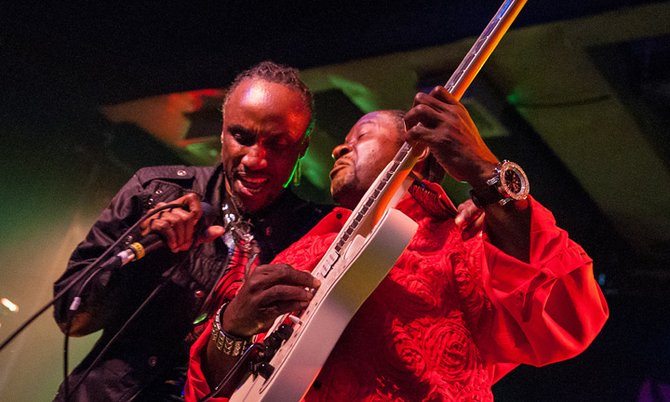 NOELLE NICOLLS
Tribune Features Editor
nnicolls@tribunemedia.net
THE JUDGES decided otherwise, but as far as members of Stinkin Wayz rock band are concerned "we won it". The Bahamian band placed third at the Global Battle of the Bands competition held in London this month, placing behind the Jamaican and Romanian bands which secured first and second place spots.
"The highlight of the whole event was us, in my opinion," said Kirkland "Swett Swenson" Bodie, lead vocalist for the band. "No one moved the crowd the way we moved it. We knew no one there, we had no one there, but we moved their crowd. No one had the kind of response we had. It was phenomenal," said Swett Swenson, also known as KB.
Stinkin Wayz secured its spot in the global competition earlier this year, when it blew away local competitors with superior stage presence and artistry. The band upped its game for the international competition, although it carried the same party songs performed locally.
"I think that song ("Let's Party") has potential in Europe big time. We only need the machinery to be in place and I think that song can be a hit song in Europe and throughout," said Swett Swenson.
Guitarist Colyn McDonald said the band had strangers in the audience and high ranking GBOB executives reciting the hook of "Let's Party" and dancing to the music. After leaving his sun glasses on stage, Colyn said another guitarist wondered jokingly "if I wear these could I play like you".
Most of the competition consisted of youth talent, bands with teenage contestants, said band members. Most competitors played rock music of varying styles, a popular genre in Europe. They were all enthusiastic about the skill and talent of the Bahamian veterans performing on European turf. The band had a low key performance during sound check, which created some surprise on the night of the competition.
"When we came off the stage that night we saw the new respect. Everyone wanted to know where did that come from. They don't know, we play possum on ya and then we come out of the bush and sneak you," said Swett Swenson.
What defeated the band, members are convinced, was not the musicianship, but the back room politics and public relations.
"Jamaica was highly represented. I mean, high represented. They had a guy from Third World there; they had their ambassador there. You saw something where the country supported what they were doing," said Swett Swenson. "I think Jamaica beat us with politics. They know how to work behind the scenes," he said.
The winning Jamaican band "Di Blueprint" performed two-men short, as one of the band members died before the competition and another member pulled out. Even still, Stinkin Wayz said the band was talented and has the potential to excel.
Colyn said the band worked on sponsorship up until the moment it departed from the Sir Lynden Pindling International Airport and still came up empty. And yet, while competing against groups that were highly supported, the Bahamian band still brought home a third place finish.
"I looked at the press pack for the Belgian band on the mic check night and they had sponsorship gone to bed," said Colyn. The Belgian band distributed chocolates and free beer to its fans to promote its performance.
"I want you to hear me now, we were competing with these guys on their music, their territory, and we went inside there and stole their people. When we went on stage, we didn't see Londoners or people from Belgium or Scotland, we saw humans that we wanted to give music to," said Swett Swenson.
"What the people gave to us, what we felt back from them, it feels good. We came in their territory and stole their crowd. And there were so many good bands," he said.

As a result of the competition, Stinkin Wayz hopes many new doors will open to gain further international exposure. Band members said they established priceless relationships with fellow artists in the global community.
"In this country, we still don't know what it means to be a manger, to be a publicist, to be a promoter. There is potential in this country but we need to step up our game," said Swett Swenson.
"What we really wanted from this whole experience was to start touring the world; we want to now break out of here and get some bigger things going; let the world know that the Bahamas is not just one thing. We are many things and we can do many things," he said.
The relationships established at the global competition have put Stinkin Wayz ahead of the pack. Going into the New Year, the band plans to take advantage of its knew found fame in Europe.