By DANA SMITH
Tribune Staff Reporter
dsmith@tribunemedia.net
THE Bahamian Ambassador's residence in London is in need of "substantial repairs," as are the residences in New York and Washington, DC, according to Foreign Affairs Minister Fred Mitchell.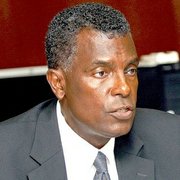 At a press conference at the ministry yesterday morning, Mr Mitchell said on a trip back to Nassau from Morocco he made a call in London where he discovered the derelict state of the Ambassador's residence.
"On the way home I took the opportunity to stop in our office in London – to have a look at both the office and the home of the new ambassador, which has to undergo substantial repairs," he said.
"I think those repairs are going to begin this week. Ed Bethel, who is the high commissioner, flew to London to take up his post on Sunday and won't be able to occupy the house because, of course, it needs substantial work at the moment," Mr Mitchell said.
Mr Mitchell said he did not have any immediate figures for how much the repairs are going to cost, but he explained that similar work would also have to be done in other official residences.
"What has happened is, these buildings are old buildings and they constantly need upkeep and I think some work has to be done to electrical, plumbing, and the floors to stabilise the building," he said.
"We have similar issues in New York and in Washington. Substantial work will have to be done to both buildings in Washington and in New York."
The minister announced the government's aims for a new Embassy in Switzerland.
"The plan at the moment is to open an Embassy shortly in Geneva and the person in Geneva is going to be responsible for European Union relations and also I think will be subject to the prime minister," Mr Mitchell said.
"Of course my advice would be to also look at other countries in the region as well – from Geneva as opposed to from London where they presently are."