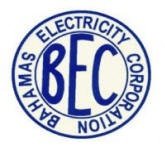 By NEIL HARTNELL
Tribune Business Editor
BEC's executive chairman has told Tribune Business that the Corporation's renewable energy tender (RFP) ended because no proposal met its required standards, adding that his answer on this had been "mischaracterised" by the head of one bidder.
Michael Moss said the reasons for ending the RFP that were cited by Thomas Schneider, chairman of Schneider Power, were never mentioned by himself to the renewable energy firm head in a letter he wrote late last year.
Instead, Mr Moss said BEC brought its renewable energy Request for Proposal (RFP) to a close because none of the bids presented to it was "up to scratch".
In his letter to Mr Schneider, dated September 22, 2011, Mr Moss clarified why the original RFP tender had been brought to a close, and also explained BEC's decision to sign a Memorandum of Understanding (MoU) with Ocean Thermal Energy Corporation (OTEC) for the potential supply of power via ocean thermal energy. Nowhere does it contain the response that BEC ended the RFP because renewable energy could not be tied into its grid, as Mr Schneider had alleged.
In his letter, which was responding to a Schneider "concern" raised over the RFP and BEC's subsequent signing of the MoU with OTEC, Mr Moss said the latter represented a "unique opportunity" using technology no other company had brought to the Corporation.
"Please note that the Memorandum of Understanding (MoU) that we have decided to enter into is in respect of a technology that no one else has thus far presented to us," the BEC executive chairman wrote. "Entering into the MoU presented BEC a rather unique opportunity to begin pursuit of renewable energy sources as part of its overall energy mix strategy."
As to the reasons for ending the RFP tender process, Mr Moss told Mr Schneider: "With regard to the previously aborted RFP, our consultant who evaluated the proposals regrettably did not find any of the ones submitted as being of quite a satisfactory standard to meet our needs. It was therefore decided to abort the effort."
Among the rejected bids was one from Schneider Power, which proposed to supply BEC with 40 Mega Watts (MW) of power from wind farms in New Providence, Abaco and Eleuthera.
Mr Moss shared a copy of the letter to Schneider Power with Tribune Business yesterday. The contents refute Mr Schneider's claim that the letter stated BEC brought the RFP tender to an end because of difficulties in linking renewable energy sources into its existing grid.
"That is a mischaracterisation of it," Mr Moss told Tribune Business on Monday, when asked about of Mr Schneider's statement on his letter. He was then out of office and unable to lay his hands on the document until yesterday.
"It was not an issue of being tied into the BEC grid. As I recall it, whatever was presented in the course of evaluation, the consultant said it was not up to scratch," Mr Moss added then.
"BEC communicated with Schneider. They received a letter from BEC explaining why it did not proceed. BEC's consultant, who was charged with evaluating the proposals, advised BEC none of those came to an acceptable level, and that was why the effort was discontinued."
The Schneider Power head, in an interview with Tribune Business that was published on Monday, said the renewable energy provider felt it had been "sidelined", citing the end to the RFP's competitive tendering process, and subsequent MoU signing between BEC and OTEC.
However, Mr Moss's September 2011 letter emphasised that BEC remained "anxious" for renewable energy to account for a major portion of its overall energy mix.
"Please be advised that we are nevertheless anxious to continue our efforts to ensure that renewable energy forms a significant component of our overall energy mix," Mr Moss advised Mr Schneider.
"We will therefore be earnestly seeking to evaluate various technologies that we consider might be able to assist is in achieving our overall objective as time progresses."