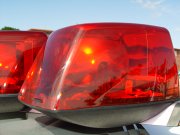 THREE people were killed in two separate shooting incidents over the weekend bringing the homicide count to 14 for the first two month's of the year.
Police are questioning a 29-year-old man over yesterday's triple shooting that claimed the life of two people and hospitalised another.
A man armed with a handgun opened fire on a group of people after a fight broke out at a party off Fire Trail Road shortly before 2am. As a result of the argument at Mackey Yard, a 24-year-old woman and a 26-year-old man were shot multiple times and died in hospital. Both were taken by private vehicle. Another man was also injured during the shooting and is in stable condition in hospital.
On Friday, a 23-year-old man was killed while sitting in his car with three other people outside a residence.
According to police, the victim was parked on Scotts Street, between West Street and Hospital Lane, when a man armed with a handgun began shooting shortly after 10pm. The man was shot in his upper body.
Anyone with information is asked to contact police at 919, Central Detective Unit at 502-9991, or Crime Stoppers at 328-TIPS.