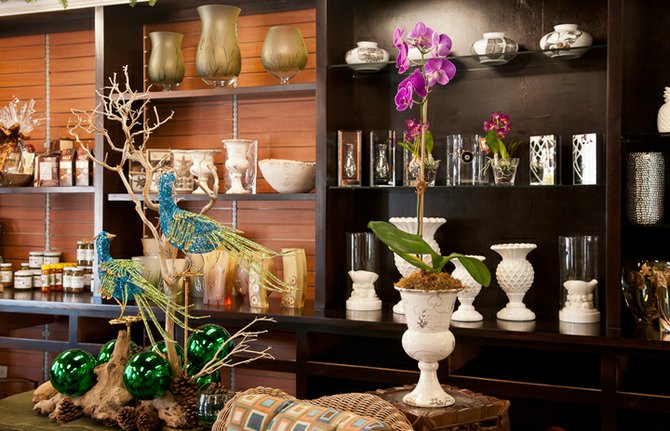 By ALESHA CADET
Tribune Features Writer
HAVING the opportunity to lighten up people's lives with her beautiful floral arrangements has been apart of Michelle White's life for more than 20 years.
As a successful florist, she has built a floral empire which has become a well-respected name in the Bahamian community.
Her company Floral Arts has earned a reputation not just for excellence, but creativity as well. Being a part of weddings and special event design has gradually taken the company to higher heights not only in the Bahamas, but on the international scene also.
Ms White said the company has been privileged to work with many celebrity clients whether for weddings, events or dinner parties.
A few of these big name clients included the task of creating and designing an ornate dinner for the cast of the James Bond movie Casino Royale, the Michael Jordan Golf Invitational Dinner Party, the Lenny Kravitz/Al Roker birthday party and the Gloria Estefan CD launch party. One of her most notable events was the memorable dinner for President Bill Clinton. This stands as most memorable for Ms White due to her admiration for the good deeds he has done in America and the world at large.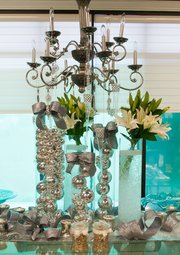 She said: "The dinner for the president was done at Ocean Club estates and we used all orchids on the entire dinner table."
Ms White told Tribune Woman her first celebrity wedding was for super model Cindy Crawford.
"It put us on the map and brides actually noticed we had done that, it gave us credibility on the international scene. I embrace challenges so it was always exciting," said Ms White.
The list did not stop at Cindy, Ms White and her team have worked on the weddings of actor Jason Priestly; singer Stevie Wonder; New York Giants NFL Superbowl winner Plaxico Burress; NBA Pacers star Jermaine O'Neil and tennis pro Chris Evert.
While all of these were wonderful experiences, she said the most over-the-top arrangement she did was for the wife of a Texas oil millionaire.
"The centre pieces were $2,000 each and they both had about 450 roses in each one, as well as orchids. They had real crystal garlands."
The process of preparing and delivering these beautiful arrangements is not as easy as it may seem, there are steps to follow.
Ms White said the first step is to meet her clients to get a good idea of what they are trying to accomplish with the event.
Because every one has a different taste, it is essential to know phone contacts of the people you are working for. The venue is also very important.
"A lot of times the venue determines the decor, whether it is outdoor in a ballroom, whether it is island chic or formal, and if it is a home you go to the home."
From her personal experiences, Ms White said she has gained a very good idea of what people want from meeting them, knowing their personality, seeing their dress and their home.
Speaking on a very recent encounter with a bride, Ms White said the newlywed was shocked at her ability to understand her lifestyle by just meeting her for the first time.
In her everyday arrangements, she said she realises people's love for the orchid flowers in particular.
"We stay away from carnations unless someone actually asks for them. Carnations and chrysanthemums "pompoms."
The roses are over-used, but she said the trend never seems to die.
"They mean so many special things and they are still beautiful. They can't ever go out of style because you can get roses in every colour under the sun."
Finding that people are a lot more educated on flowers in this day and age, Ms White said hydrangeas are also very popular.
Despite all the glittering success with her company, Michelle and her creative staff stressed the need for hard work to keep ahead of new trends in weddings and events.
With fresh ideas and the ability to create unique and successful events for every level of budget, there is no stopping them now.
Opening a floral store 30 years ago, Ms White said back in those days she remembers everything being stylised, but the floral trends were not designed to work along with the decor in people's homes. It was her aim to change this.
"The trends did not really enhanced the home, my idea was to make everything more natural and introduce new type of flowers. In those days it was just about carnations and roses," she said.
With Ms White's impeccable taste and sense of design, she created a sophisticated boutique, the perfect setting to display the many uniquely interesting decor and gift items.
Growing full force into retail as well as events, Floral Arts Limited has re-established its retail business into a brand new shop located in Harbour Bay Shopping Centre.
Excited about the new venture in Harbour bay, she said: "I'm looking forward to my new boutique shop, it is providing a more personal experience. We've always kept up with the floral trend and intend to continue that. We are still one of the leading shops for special events on the island."
The boutique provides a full range of vases, decorative and useful items such as candles, bags, books, lotions and silk arrangements. The store also stock a range of small gift organic and gourmet foods, relishes and chocolates.
The word "passion" is often over-used, but it is what keep Ms White going strong?
"I have to be passionate and excited about what I do. For every event that I take on, it is the passion that keeps us going. With passion, you can walk away feeling proud of what you created," she said.
Offering advice for aspiring florist, she simply said "stickability."
"It is a service-oriented job. You are going to have a lot of different people to deal with so you would have to have patience and stickability."