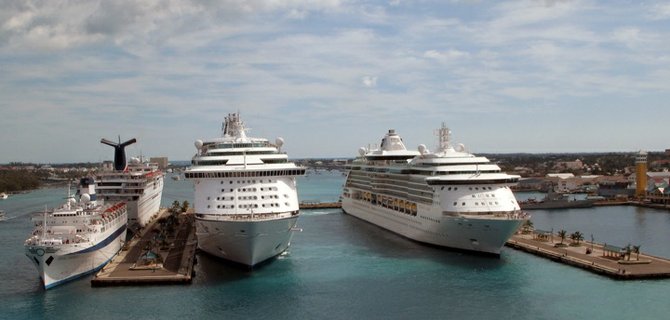 By NEIL HARTNELL
Tribune Business Editor
THE BAHAMAS is expected to "exceed" and surpass Cozumel as the Caribbean's leading cruise destination if it maintains its current growth rate, the minister of tourism said, with 2011 stopover visitors to this nation projected to have ended the year just 2.1 per cent down on 2010.
Vincent Vanderpool-Wallace told Tribune Business that the air arrivals momentum generated in November and December 2011 was forecast to carry through the 2012 first quarter, with several months this year set to match 2008 pre-recession business volumes.
On the cruise ship front, Mr Vanderpool-Wallace said this nation was set to "exceed" Cozumel in terms of passenger visitor numbers, describing the Mexican port as "the biggest" destination in the Caribbean.
Gary Young, the Ministry of Tourism's senior director of research and statistics development, also told Tribune Business that stopover/air arrivals were projected to be up around 6 per cent year-over-year for the 2012 first quarter.
He added that air arrivals for January 2012 were forecast to be up 7-8 per cent, noting that this year was up against weak comparatives, after the same month in 2011 saw an 11 per cent decline in stopover visitors due to the weather-related travel disruption in the US.
"We don't have the final numbers for December, but we know they were up significantly, and November was up quite substantially over the previous year," Mr Vanderpool-Wallace told Tribune Business.
Year-to-date to October 2011, air arrivals were off by 3.8 per cent compared to 2010 figures, but projections supplied by the Ministry of Tourism show that November and December's performance was likely to close the gap by 1.7 percentage points to just 2.1 per cent down - not 2.9 per cent as previously reported elsewhere.
"The magnitude of the uptick in November and December was greater than anticipated, so we came in down by just over 2-plus per cent," Mr Vanderpool-Wallace added. "It's near certain that January is going to be significantly better than last year, and also February.
"No question about it. We like to break these things up into yearly increments, but a very clear uptick began in November and is going through to the first quarter of next year."
Many tend to look at tourism, and air/cruise passenger arrivals, as a 'numbers game', but the key factor for the Bahamian tourism industry and economy is the per capita tourist yield - how much money they are actually spending in the country.
Acknowledging that the recession had clearly impacted spending levels among leisure travellers, Mr Vanderpool-Wallace said the "biggest loss" for the Bahamas had occurred when group/convention business declined. These visitors, he said, tended to spend more per capita because the funding came from their companies, not their own pockets/
"The two of those go hand in hand," Mr Vanderpool-Wallace said. "Where we were hit most was by the fall-off in group business, which is expected to come back in the first quarter of this year."
Both Atlantis and Baha Mar executives have previously told Tribune Business that group business, which fell off by up to 30-50 per cent at the recession's height, had recovered substantially last year and was expected to return to close to pre-downturn levels with further growth in 2012.
"There's been quite a turnaround," Mr Vanderpool-Wallace said. "We're hearing them [the hotels] begin to say they're not too far off being close to what their best year was, 2008, so there's better news for 2012."
Mr Young, meanwhile, told Tribune Business that initial projections for December 2011, based on available data and trends, indicated that air arrivals were again likely to have increased by 8-9 per cent over 2010 figures.
He added: "In 2011, overall tourist arrivals should reach or be fairly close to 5.5 million. This represents a 4.6 per cent increase over 2010.
"At the end of October the increase was also 4.6 per cent. Note that to maintain the same percentage increase there would have to be improved performance in the last two months, given the larger base number at the end of the year.
"In fact, this is the case. In the last two months it is estimated that the growth in air arrivals cut the loss of air arrivals from -3.8 per cent at the end of October to -2.1 per cent for the year. This reflected the 9 per cent growth in November air arrivals to Nassau/Paradise Island, and the impact the sports events on Paradise Island and increased air lift into Grand Bahama had."
The tourism minister said that were it not for the weather-related disruptions in January and Hurricane Irene, 2011 air/stopover arrivals would have exceeded the previous year.
"Barring any substantial activity or event this year, we expect to have a number of months in 2012 where we are back to 2008 levels, which says a great deal for the recovery," he added.
Mr Vanderpool-Wallace told Tribune Business that the Bahamas' cruise business was "growing at a pace exceeding everyone's expectations", acknowledging that much of this nation's market had gone to three-five night cruises. These provided "high quality, low cost" vacations on three-five night cruises that enabled persons to see multiple Bahamian destinations.
"We expect, all things considered, the numbers to exceed Cozumel," the minister added of 2012. "We expect to exceed the numbers in Cozumel, given the rate of growth we see. They're the largest in this part of the world, so exceeding that will be a big achievement."
It is not clear whether Mr Vanderpool-Wallace was talking about the Bahamas as a whole, just Nassau/Paradise Island, or first port of call visitors. The Bahamas as a whole, according to Caribbean Tourism Organisation (CTO) data, is already ahead of Cozumel.
Foe the year to October 2011, the Bahamas saw a total 7.5 per cent increase in cruise visitors to 3.321 million, compared to 3.089 million for the same period in 2011. In contrast, Cozumel saw just a 0.8 per cent increase year-over-year for 2011 to September, reaching 2.2 million compared to 2.102 million for the same period in 2010.
For the last full year, 2010, Cozumel saw a dramatic 31 per cent growth rate to 2.911 million visitors, compared to the Bahamas' 3.8 million. Nassau also has some way to go to match Cozumel in its own right, estimates suggesting it attracted just under two million cruise passenger visitors for 2011, a total Cozumel surpassed in the first nine months of the year.
Mr Vanderpool-Wallace, though, said the nature of the Bahamas' cruise business "signifies a great deal about the lure of a Bahamas' vacation". Some 70 per cent of that business, he added, were those seeking the quality, low cost vacation, and the Bahamas' multiple islands and US proximity meant this was "unique to us".