By KHRISNA VIRGIL
kvirgil@tribunemedia.net
THE terms of the government's Arawak Port Development share offer to civil servants could be illegal, according to independent candidate for Garden Hills Paul Moss.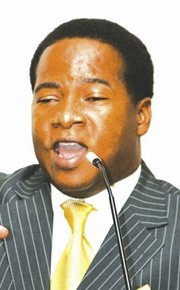 In an effort to boost the Bahamas' transition to a "share-owning society", Prime Minister Hubert Ingraham announced that the government will offer its employees a salary advance to buy shares in the port.
Mr Ingraham said the offer applies to those who have served for more than five years and will act as an interest-free loan, repayable to the Treasury Department over the course of the next year.
But former PLP member Mr Moss claims the offer does not follow the dictates of the law, as it has not been debated in parliament.
He said: "The Financial Administration and Audit Act of 1973 governs the manner in which a loan ought to be advanced by the government in respect to the Consolidated Fund.
"It states specifically in section 17, subject to the provisions of the Public Treasury Bills Act and to section 16, no loans should be raised by the government and no guarantees involving a financial liability shall be binding by the government unless entered into with the prior approval of the House of Assembly, signified by a resolution thereof.
"Regulations cannot be made by the PM or the Ministry of Finance by itself. Parliament must approve it. I ask the question: When and where was parliament convened to give this approval?
""The Minister of Finance (Prime Minister Ingraham) and those who sit in parliament need to show the public where this meeting took place and where they voted and that this resolution was approved. If not, we cannot be seen to be participating in what is going on."
Mr Moss added that if such proof is not forthcoming, the image of the Auditor General and the Ministry of Finance will be damaged.
"The law says quite clearly that the Auditor General ought to make sure that such advances as this meet the requirement and this must be done annually and reported to parliament.
"If that is not the case, then we have a situation where the Ministry of Finance and also the Auditor General is not doing their job.
"This has grave consequences because this Act is akin to the Constitution, and certainly the auditor general has a responsibility to ensure that the public's trust in the Treasury is maintained."
Mr Moss urged the Prime Minister to "take a step back and get it correct, if in fact he does want this deal to go through".