By DENISE MAYCOCK
Tribune Freeport Reporter
dmaycock@tribunemedia.net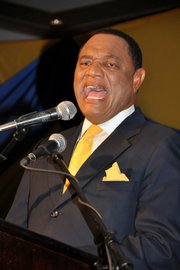 FREEPORT – The Progressive Liberal Party officially introduced its five candidates to Grand Bahama on Friday at the Grand Lucaya Resort, where PLP leader Perry Christie unveiled plans to revitalise Grand Bahama's economy.
Mr Christie stressed that Grand Bahama has been neglected and left to suffer for four and half years by the FNM government.
He and the five candidates, including Julian Russell, the candidate for Central Grand Bahama, Gregory Moss, Marco City; Tanisha Tynes, East Grand Bahama; Senator Dr Michael Darville, Pineridge; and Obie Wilchcombe, West Grand Bahama, introduced plans for "Project Grand Bahama", a detailed plan for the revitalisation of Grand Bahama.  
"We are going to make Grand Bahama a model of success, not just for our nation but for the region, with a diversified economy featuring tourism, entertainment, sports, industry, shipping, international business, financial services, agriculture and other enterprises," he said.
Through Project Grand Bahama, Mr Christie said the PLP will focus on a policy of putting Bahamians first, with real enforcement for existing protections for Bahamian workers, increased work permit fees for jobs Bahamians are qualified to perform, and a plan to move aggressively to fill job vacancies with qualified Bahamians.
It will also include establishing a Ministry for Grand Bahama to ensure that the island's development receives the focused, specialised attention it deserves. 
"We will bring back the Ministry for Financial Services and Investment, and we will ensure that an office of this ministry is established in Grand Bahama as well, so that new investment in Grand Bahama can be more efficiently recruited, processed and facilitated," he said.    
Mr Christie said plans also include the tourism sector on Grand Bahama.
In an effort to make the island more competitive, he said the PLP will provide an incentive for the rejuvenation of existing hotels and the expansion of new ones.
Mr Christie proposes to cut government taxes at the airport and harbour in half, and cut hotel taxes by 50 per cent for a period of five years for existing hotels and ten years for new hotels.
Mr Christie claims that Grand Bahama has suffered under the FNM government.
"I have seen your suffering for myself. I know you are ready for change, ready for a new day and a new direction," he said. "Everywhere you go in Grand Bahama, from the East to the West and everywhere in between, the cry is the same: things have never been as bad as they are right now."
He said that people have lost jobs and families are struggling to survive in Grand Bahama, where so many businesses have closed.
Mr Christie noted that the Island Palm Hotel, City Markets, Reef Village, Port Lucaya Hotel, Lighthouse Point, Old Bahama Bay, Goombay Park, and Grand Bahamas Distributors have all closed. 
"Grand Bahama has become the land of pain. Grand Bahama is hurting, suffering from four plus years of almost unthinkable neglect," he said.
The PLP leader criticised Prime Minister Hubert Ingraham for his "dysfunctional or non relationship" with the Grand Bahama Port Authority, fueled by his contempt for Hannes Babak  
"Hubert Ingraham has a thing against Hannes Babak – one man – and because of that the people and stakeholders of Freeport are made to suffer. Now, with elections on the horizon, Ingraham announces that now Sir Jack has sidelined Hannes Babak, the government is willing to sit down with the Port Authority. 
"One man holding up the show because of his dislike of one man. Have you ever heard of such madness in your life? Is that any way to govern a city or a country? Shame on you, Hubert Ingraham!  You should ask Freeport for forgiveness, not for votes!" stated Mr Christie.
Mr Christie said they will ensure that the economic resurgence extends beyond the Port Area, beyond Freeport proper, to all of Grand Bahama because West End and East End have been left out in the cold for far too long.