By LAMECH JOHNSON
Tribune Staff Reporter
ljohnson@tribunemedia.net
LEADERS of the governing and opposition political parties hit out at each other and their rival parties last night during and after the Free National Movement's launch of its full slate of 38 candidates for the soon-to-be-called general election.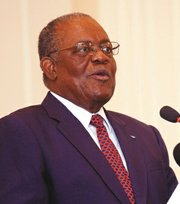 During last evening's ceremony at the Wyndham Nassau resort, Prime Minister Hubert Ingraham described Progressive Liberal Party leader Perry Christie as a leader of talk and promises, "too weak and too scared" while in office to deal with members of his own administration who fell out of line.
However, the opposition leader called last night's launch by the FNM a "big show" and a disappointment claiming that the PM steered away from the dominant issue plaguing the country -- crime.
In his address to the packed ballroom, Prime Minister Ingraham said that Perry Christie could not boast of running a "scandal-free" administration like the FNM has done since assuming office in 2007.
"Over the past five years," said Mr Ingraham, "we have delivered clean and scandal free government. Perry Christie cannot match this claim. I pledge to the Bahamians that if re-elected, we will again deliver honest government."
Regarding Mr Christie's choice of candidates to run in the elections, the MP for North Abaco said: "From some of the people that Perry is running again, we know that the scandals from day one, and that Christie will be too weak and too scared to stop the plundering and pillaging of the cookie jar just as he was last time around."
The PM told the seated audience and those watching the televised broadcast that the FNM are a "safe bet."
He added: "With the PLP, you'll be gambling with your future. With the PLP, very few people win. In fact, if they win, you lose."
Mr Ingraham asked for the public's support for himself and his FNM party on election day.
"Your FNM is offering you a record, not rhetoric. Nobody could ever out-talk or out-promise Perry. Now when it comes to actually doing something, that's a different story."
He reasoned that the PLP had "some very bad allergy."
"They are allergic to hardwork. They are allergic to honest and clean government. They are allergic to telling the truth."
He said that another five years of the PLP would be like the tweaked tagline of a popular international retail corporation, "expect less, pay more".
"Don't expect much from them in terms of getting things done or being an efficient and honest government. The same people who brought us Bluewater can't wait to get their hands on your money. From them, you can 'expect less, pay more'."
Not taking lightly to the insults by the nation's leader, former PM Christie issued a press release shortly after the conclusion of the FNM's launch. Though he did not respond to the insults directed at himself and his party - dismissing the FNM launch as a "big show"- Mr Christie expressed disappointment at the PM's "lack of focus" in last night's candidates' launch. He felt Mr Ingraham should have been dealing with what he considers more pressing issues, such as crime.
He explained: "Of the many thousands of words spoken by the Prime Minister tonight, fewer than 30 were devoted to crime, a perfect reflection of how little he cares about the issue."
"It is repellent to see the FNM congratulating themselves on their record when what they have really delivered are record levels of violent crime.
"A government's first responsibility is to keep its citizens safe. Yet the murder rate has doubled under this FNM government. Tonight, the FNM put on a big show. But underneath all the spectacle is a party with no clue about how to keep Bahamians safe."
The leader of one of the country's oldest political parties accused the current administration of cancelling a number of their initiatives that could've dealt with the serious crime issue, all due to "petty political reasons".
"For petty political reasons, they cancelled or gutted PLP programmes like Urban Renewal, Swift Justice, School Policing, Witness Protection - all slashed or eliminated."
"For the FNM, it's all a game. But it's not a game. It's deadly serious. There are literally lives at stake."
The Centreville MP assured Bahamians that the PLP "has a tough, innovative plan to fight crime," which they call "Project Safe Bahamas."
The project, according to the party head, is designed to hand down tougher sentences for illegal weapons possession, returning police to schools, the reinstatement and upgrading of the Urban Renewal programme, among others things, he said.
He concluded that the FNM's message of "deliver", "and the FNM does deliver - for foreign road contractors, for insiders, and for special interests", sounds not just "smug and self-satisfied, but completely disconnected from reality to the many Bahamians who no longer feel safe in their own homes."