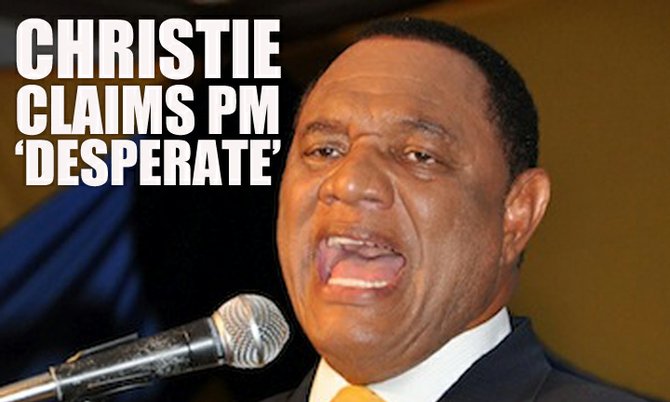 By CELESTE NIXON
Tribune Staff Reporter
cnixon@tribunemedia.net
THE pressure of the upcoming general election seems to be getting to Prime Minister Hubert Ingraham and showing him in a new light, his challenger claimed yesterday.
In an exclusive interview with The Tribune, PLP leader Perry Christie branded the Prime Minister's latest comments as desperate, and claimed his lack of civility has brought politics in the Bahamas to a new low.
Responding to Mr Ingraham's speech at the FNM's unveiling of its full slate of 38 candidates at the Wyndham Nassau Resort on Sunday, Mr Christie said: "For the first time I see desperation, where he is almost beseeching and begging people not to vote for the PLP - I have never seen that in him before.
"I thought the Prime Minister's speech was most regrettable in so far that he resorted to language that had no boundaries when it comes down to the civility that should be in public life."
During his address Mr Ingraham labeled Mr Christie as a leader of talk and promises, "too weak and too scared" while in office to deal with members of his own administration who fell out of line.
While you expect criticism in politics, Mr Christie said, insults – particularly from a person in such a high office and that are intended to denigrate a person unfairly – are wrong.
"This standard that he seems to apply, does not apply to the FNM," he said. "It only applies to the PLP, it is incredibly wrong and is taking politics in this country in the wrong direction."
Regarding the PLP's choice of candidates to run in the coming elections, Mr Ingraham said: "From some of the people that Perry is running again, we know that the scandals from day one, and that Christie will be too weak and too scared to stop the plundering and pillaging of the cookie jar just as he was last time."
In response, Mr Christie said: "I want him to stand by that because I want the Bahamian people to look carefully at the candidates we are running and I want them to judge me by that, compare them one by one."
He said he has made every effort to insure that all his party's candidates understand the necissity of a commitment to integrity.
"This election is going to be about who can present the best team and the best message for the future of the country, it is not going to be about Hubert Ingraham," said Mr Christie.
At a time when the country is challenged with crime and unemployment and citizens are looking for hope, Mr Christie said he was amazed that Mr Ingraham spent only five minutes of a 45 minute speech on crime.
"You walked away from his speech knowing it was same old typical Hubert Ingraham speeches, where you are trying to denigrate people using the same clichéd negative campaigning," he said.