By RENALDO DORSETT
Sports Reporter
rdorsett@tribunemedia.net
Nearly two decades of athletic and academic tradition between schools of the Anglican Diocese continues this year with the organisation's bi-annual signature event.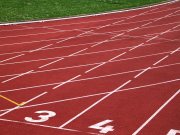 The Anglican Central Education Authority is slated to host the 19th Anglican Schools Festival, February 8-12 in Freeport, Grand Bahama.
Bishop Michael Eldon School will act as the hosts for this year's event.
Formerly known as the "Triangular Meet," the event expanded to include a number of sporting disciplines.
The Diocese also added a fourth school, St Andrews in Exuma, to go along with Bishop Michael Eldon and the traditional New Providence powerhouses, St Anne's and St John's.
In this year's edition, students will compete in track and field, basketball, swimming, soccer, elocution, spelling, choir, band and cheerleading.
The five-day event will open with the official opening ceremonies on February 8 in the Bishop Michael Eldon Auditorium when the Venerable Harry Bain, archdeacon of the Northern Bahamas and rector of the Pro-Cathedral of Christ the King will be honoured for his contributions to the school.
The Rt Rev Laish Boyd, Anglican Bishop of the Bahamas and Turks and Caicos Islands, said the event fosters school spirit as well as a spirit of togetherness between the institutions.
"It's an event where the Anglican schools come together to celebrate sport and various other kinds of competition. We are delighted to be putting on the festival because it is a means of fellowship for the students, staff and parents of all of our schools. It is a massive undertaking and we are very grateful to our Anglican education department, along with the principals and other offices of the Bishop Michael Eldon Schools for hosting this year's event.
"We challenge our young people to be their best in a number of disciplines," he said. "In our system we have four schools, St Anne's, St John's, Bishop Michael Eldon in Grand Bahama and St Andrew's in Exuma. It is an opportunity to bring all of our schools together and our families together. We are an educational system that has been in existence since 1947 with St John's College and we are growing and have made tremendous contributions. Anything that we can do to strengthen fellowship and encourage the connections between our school families we do because family connection and family strength are both extremely important."
Dr Judith Tynes-Jones, director of the Anglican Central Education Authority, encourages all alumni to take an active role in the event through sponsorship or participation in volunteering.
"We are encouraging our old scholars to come out and support the event. On Wednesday at the opening ceremony we are honouring Archdeacon Harry Bain. We also encourage alumni to sponsor children. We have our youngest school that needs sponsorship because they will be traveling to Freeport by Bahamasair. Our two schools in the capital will be traveling by boat, so they are welcoming traveling alumni to join them on those boat rides," she said.
"We are looking for a wonderful time where we can work on children physically, spiritually, academically, physically, emotionally and socially. It's not just sports. We are also having elocution, spelling bee, the choir and the band will be competing, and also cheerleading so we are looking at developing the whole child."
Schools in the capital are well-prepared and eager to claim the first event title since 2008 after the 2010 edition was not contested.
"The Blue Waves are preparing to capture the championship. We were champions in 2004 and in 2006 and we are preparing to recapture that championship," said Cynthia Wells, principal of St Anne's School. "The entire school is being encouraged to play their positions to the best of their ability, they are being encouraged to cheer for their teams and check their attitudes. They are supposed to come away from this festival having made a new friend in each of the schools."
Antoinette Storr, principal of St John's College, said she expects her school to claim its first title since 1998.
"What we are attempting to accomplish is great camaraderie and great rapport. We want the children to really get together, to have a good time and at the same time interact through sports and other events," she said. "Of course we expect to come back with the championship. We expect to annihilate the competition. We will do what Anglican schools always do and that is to promote wholeness, and wholesome development for our children."
The Anglican School Festival was first established in 1983 with the 'Triangular Track Meet" between three schools - St John's, St Anne's and Bishop Michael Eldon, formerly Freeport Anglican High School.
St Andrew's joined in 1998 and, with the addition of the fourth school, the name was changed to the Anglican School Festival.
Most Anglican School
Festival Championships
Bishop Michael Eldon - 8 (1983, 1986, 1988, 1992, 2000, 2002, 2006, 2008)
St John's - 6 (1987, 1989, 1990, 1991, 1996, 1998)
St Annes - 2 (1984, 2004, 2006)
SCHEDULE OF
EVENTS 19th
ANGLICAN SCHOOLS
FESTIVAL 2012
WEDNESDAY, FEBRUARY 8
9am - Opening Ceremony
Bishop Michael Eldon Auditorium
Noon - Swimming Championships
Bishop Michael Eldon Pool
6pm - Spelling Competition
Bishop Michael Eldon Auditorium
THURSDAY, FEBRUARY 9
9am - Elocution Competition
Bishop Michael Eldon Auditorium
11am - Softball Championships
Sports Complex
3pm - Sr Girls & Jr Boys
Basketball Championships Saint George's gym
7:30pm - Cheerleading Competition
FRIDAY, FEBRUARY 10
9am - Soccer Competition
Bishop Michael Eldon Field
11am - Softball Championships
Sports Complex
Finals Sr Girls & Jr Boys
3pm - 3000, 5000m, 4x400m - High & Triple jump
High & Triple Jump, Discus
6pm - Student Social Bishop Michael Eldon Auditorium
SATURDAY, FEBRUARY 11
10am -Track & Field
Grand Bahama Sports Complex
7pm - Staff Social
Bishop Michael Eldon Auditorium
SUNDAY, FEBRUARY 12
10am - Church Service
Christ The King Church & Other Anglican Churches
3pm - Festival of Fine Arts
Bishop Michael Eldon Auditorium